It is the final month of entries to the Transformation of the Year 2023 competition, and it's not over yet! This week we received lots of fabulous November transformations, including lots of fabulous Collagen Lift entries. Let's take a look!
November Transformations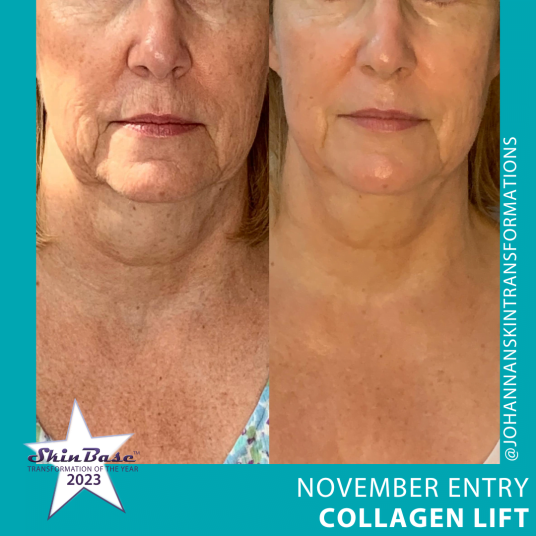 Collagen Lift x 8
Jo Hannan Skin Health & Transformations
Client Testimonial: "I have had a course of Collagen Lift treatments with Jo and the results have been wonderful. I felt so self conscious about the lines on my face and neck. The Collagen Lift treatments have made me look and feel so much healthier and given me back some confidence in myself. It has also been wonderful to have received several compliments from friends about how lovely my skin is looking! Jo has been amazing with her advice and knowledge about skin care and recommending this treatment has been just right for me. I will continue with the Collagen Lift along with facials as I know they are effective with super results.

Collagen Lift x 6
The Skin and Body Clinic Essex
Another fabulous addition to the November Transformations, from the Skin and Body Clinic Essex. Kerry's client had a course of 6 Collagen Lift treatments, and an additional 3 Collagen Lift Ultimate treatments. 
Client Testimonial: "I have been having the Collagen Lift and can see and feel a real difference with my face and neck, I have been having the treatment with Kerry who has made me feel completely at ease and explained the treatment, process and how it works, can't wait to see the results in a few months time, would highly recommended!"

Collagen Lift x 6
Aesthetics Attraction
Kerri's client is so pleased with the results of her Collagen Lift treatment. She has never had any other aesthetics treatments, and loves the changes she can see in her skin. 
Client Testimonial: "Just finished my 6 treatment plan of Radio Frequency and absolutely LOVED it!! From the very first treatment I noticed a difference. I also had the microdermabrasion with my last radio frequency treatment and my face was glowing!! So happy with the results. Thanks girls."