SkinBase Transformation of the Year 2023
How would you like to transform your skin and win a holiday? Throughout 2023 we will be searching for the very best client transformation from a course of SkinBase treatments. The winning client will jet off to the Caribbean to enjoy 10 days of glorious sunshine and beautiful sandy beaches!
Book your course of SkinBase Microdermabrasion, IPL or Collagen Lift treatments in 2023 with a SkinBase therapist and it could be you jetting off on a Caribbean Holiday next year!
Entry for our 2023 competition has opened!
Win a Holiday 
plus

monthly £500 retail voucher prizes throughout the year!

That's right, throughout 2023 year we will once again be searching for the very best client transformation from a course of SkinBase treatments. Each month, our SkinBase therapists and the public will vote for their favourite client transformation. 

The monthly winner receives £500 in retail vouchers, and so does their therapist! 

Our panel of judges will decide who should win and the best client transformation will be crowned The SkinBase Transformation of the Year winner. The winning client jets off to the Caribbean to enjoy 10 days of glorious sunshine and beautiful sandy beaches with BBD $2,000 to spend!! The SkinBase therapist also wins their own Caribbean holiday! How amazing is that?! 
**BONUS CARIBBEAN HOLIDAY DRAW**
As an extra incentive, all entries to the main competition will be entered for our bonus draw at the end of the year with TWO BONUS HOLIDAYS to win!!
All entries will be in with a chance to win the bonus holidays. One for the client and one for your amazing SkinBase therapist!  You don't have to be a monthly finalist to win the bonus holiday, just enter the main competition to be entered in the bonus draw. So, don't miss out on your chance to win, get your entries in today!
How to Enter? Simple.
Speak to your SkinBase therapist about entering the competition, preferably before starting your course of SkinBase treatments.
Make sure you get some great photos, before, during and after your course of treatments.
Your SkinBase therapist will then submit your entry once you have completed a course of microdermabrasion, IPL or Collagen Lift treatments.
All you need to do is turn up for your treatments and let your therapist work their magic!
You can read the full T&C's here. 
Do you know who your nearest therapist is? Search now to book a course and start your 2023 transformation!
Transformation of the Year 2022 Winner
Our judges have decided and we have our 2022 winner! Congratulations to Hollie Manning from Pamper Treat Repeat and her client Carla Davies. This transformation wowed the judges and the client testimonial really shows just how life-changing a course of treatments can be! Congratulations to you both! Hollie and Carla will each be holidaying in Barbados courtesy of SkinBase later this year! Here's Carla's transformation and her testomonial: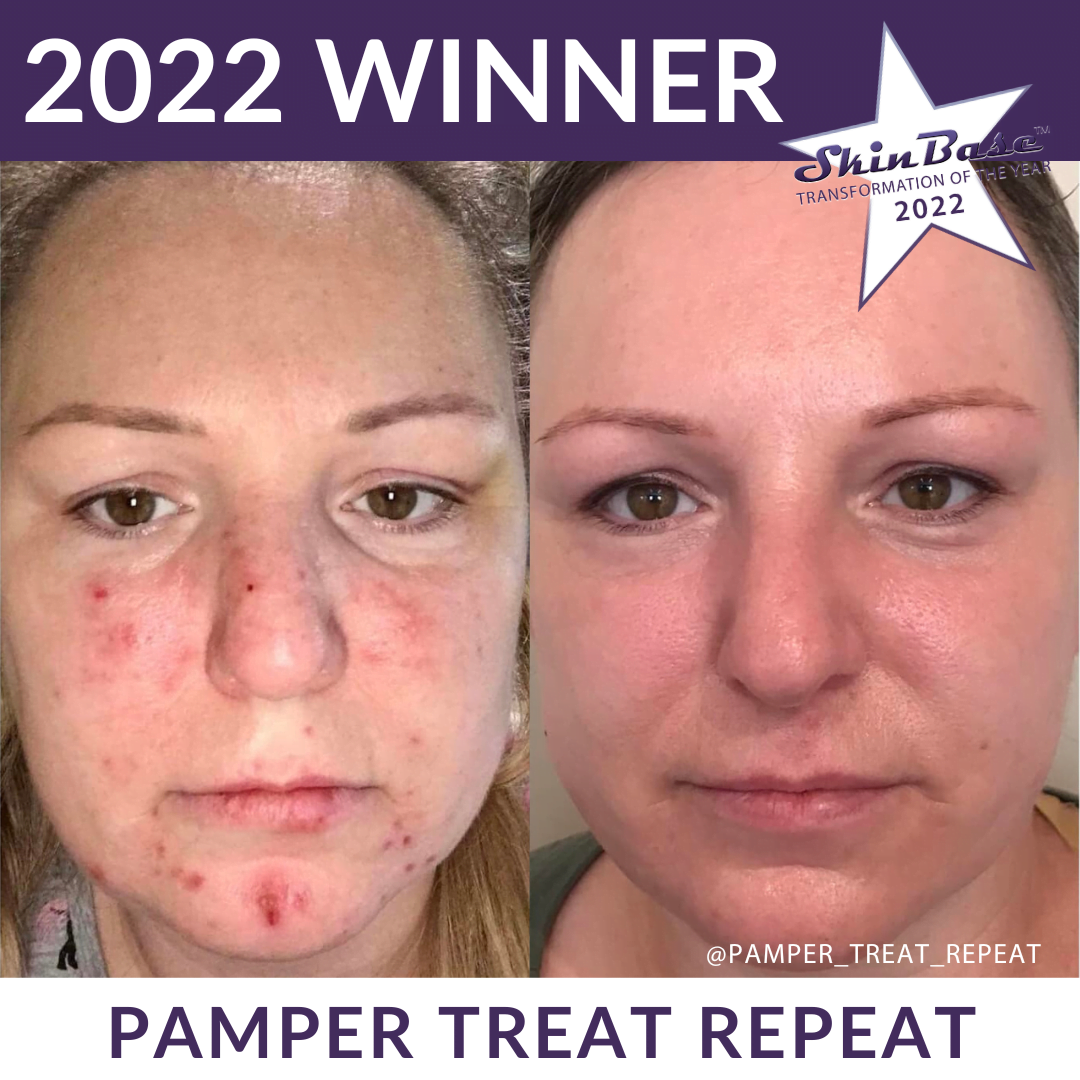 "I started having Microdermabrasion due to really bad skin flare ups that would be a mixture of spots, welts and boils with terrible dry skin around the nose area. It was painful and totally destroyed my self confidence, stopping me leaving my house as I felt hideous. I saw an advert for SkinBase microdermabrasion with Hollie and thought it's now or never to try this treatment. I was so nervous and self conscious going but my father supported me by driving me to the door of the salon. After a course of treatments my skin was glowing. It was clear, it was healthy and bit by bit my confidence came back and I started going for a coffee and cake after my treatments! 
I have kept up with regular microdermabrasion with Hollie and now I can walk around make up free having good skin, it literally gave me my confidence to get my life back and speak to people again. 
I cannot thank Hollie enough for the professionalism and support – especially at the start as she really did put me at ease when my anxiety was really bad. I love my skin and will always have microdermabrasion to keep it in this condition."
Which treatment to pick? Here's some more information to help decide
Microdermabrasion
Where it all started for SkinBase, this award-winning treatment is still a firm favourite with all of us here at SkinBase and we still see results that amaze us. It really can transform skin alongside a good skincare routine. 
What is microdermabrasion? How does it work?
Microdermabrasion
is a deep exfoliating treatment for your skin. It uses a jet of tiny crystals to dislodge the old, dead skin cells from the outer layer, revealing the fresh, new skin beneath. The vacuum action stimulates the microcirculation within the skin, which promotes collagen production.  M
icrodermabrasion is a progressive treatment so for skin concerns like pigmentation 
and
 scarring 
you
 will continue to see improvements week by week.
Why Do We Recommend A Course Of Microdermabrasion treatments?
No matter how much you look after your skin, it will still be adversely affected by the environment and the ageing process. A course of Microdermabrasion facials can help to repair damage that has occurred over the years, (accelerated by a decline in collagen production during our late 20s/early 30s. The extent of skin damage will vary, so it stands to reason that to repair some of this damage, a course of treatments will be required.
What can it treat?
A course of SkinBase Microdermabrasion helps to target skin concerns such as spots, blemishes, enlarged and blocked pores, acne scarring, uneven skin tone, pigmentation, dullness and fine lines. You can even see results from the very first session! You aren't just investing in your skin's appearance, you're investing in feeling better about yourself, and investing in your skin's long-term well-being.
Acne and Acne Scarring
Fine Lines and Wrinkles, Ageing Skin
Dull and Tired Skin, Uneven Skin Tone, Dry and Dehydrated Skin
Stretch Marks
Hyperpigmentation
Red marks caused by picking
How regularly can I have microdermabrasion?
We recommend every 7-10 days during a course to achieve the best results. This allows your skin time to recover but is also close enough together if you are working to improve skin issues. Your therapist can work deeper on the skin with each treatment; but safely and effectively without injury to the skin. Microdermabrasion can be used anywhere on the body with congested skin, uneven skin tone and stretch marks.
SkinBase Microdermabrasion Client Transformations
Collagen Lift 
Collagen Lift, the latest in skin rejuvenation for face and body from SkinBase. 
This age-defying treatment tightens, lifts and smooths skin to turn back the clock on ageing. Growing numbers of the rich and famous are choosing non-surgical treatments like Collagen Lift for its great natural-looking results. 
What is Collagen Lift? How does it work?
Collagen Lift is a skin rejuvenation treatment to lift, tighten, contour and tone. The treatment uses a heated ceramic wand to deliver waves of energy into the skin stimulating the production of new collagen and realigning elastin fibres deep within the skin. This tightens and strengthens the skin and tissue,  lifting and smoothing.
With Collagen Lift, it's no longer necessary to go under the knife. Achieve incredible results with zero down time after treatment. Just amazing firm, plump and fresh skin. 
Why Do We Recommend A Course Of Collagen Lift?
Collagen is vital to keep skin plump and firm, but the body produces less each year causing skin to lose its elasticity. Fine lines and wrinkles begin to form, skin begins to sag and lose its fresh youthful appearance. Over a course of treatments, Collagen Lift will help to kickstart new collagen production  and realign the elastin fibres within the skin. You can look forward to increased muscle tone, more defined contours and a reduction in fine lines.
What can it treat?
Collagen lift has two different treatment modes which allows it to work on the skin concerns close to the surface of the skin like fine lines and wrinkles and also on skin concerns which are much deeper and require a lifting and firming action like sagging skin or cellulite. It's the perfect 
treatment
 to combat signs of ageing including; fine lines and wrinkles, 
marionette
 lines, sagging jowls, loose skin. A Collagen Lift course will help to firm, 
tighten, lift and create more defined contours for a younger-looking you. 
Body Treatments
Collagen Lift is not just a facial treatment and it can be used on lots of body areas very effectively to tighten and lift loose or sagging skin and smooth cellulite . Popular treatment areas include;
Upper arms and Bingo wings

 

Decolletage

Thighs 

Cellulite

 

Bottom

Stomach
How regularly can I have Collagen Lift? 
An initial course of 6 is vital to get the most from this treatment. These can be carried out twice a week over 3 weeks or once a week over a 6 week period. After that monthly booster sessions will keep stimulating new collagen to maintain those results. 
Collagen Lift Client Transformations
Intense Pulsed Light (IPL)
SkinBase IPL is a fantastic system that can be used for a wide range of treatments including hair reduction, photo-rejuvenation, acne and vascular lesions. The SkinBase IPL also features a unique cooling cryo-handset thiscreates an anaesthetic effect on the skin surface to provide the most comfortable treatment experience. 
What is IPL? How does it work?
IPL is a light based treatment that uses cut off filters to select specific wavelengths of light which are then used to create heat energy within the skin to target a specific structure and break it down. SkinBase IPL is an advanced system that offers treatments not just for hair reduction but also for pigmentation, sun-damaged skin, acne and vascular lesions
Why Do We Recommend A Course Of IPL?
A course of IPL is always required to get optimum results. The number of treatments will vary depending on what you are having treatment for. Hair reduction takes several treatments whereas acne and vascular just a few treatments in a course.
What are the IPL treatments – What can they treat?
Acne 
Destroys the bacteria on the skin preventing new spots occurring.
Prevents over-production of sebum and dramatically reduces inflammation.
Stimulates collagen production reducing the appearance of scarring and improving skin texture.
Treats sun damage including age spots and pigmentation.
Reduces redness and uneven pigmentation.
Effectively reduces fine lines and wrinkles.
Skin looks smoother and more even in appearance.
Vascular Lesions
Treats thread veins and rosacea in as little as two or three treatments.
Remove campbell de morgan spots / cherry angiomas.
 
Permanent Hair Reduction
One of the most popular and well known treatments for IPL is the reduction of unwanted hair. The SkinBase IPL has proven itself time and again for permanent hair reduction.
Intense Pulsed Light Client Transformations
Find Your Local SkinBase™ Therapist
SkinBase™ is the leading microdermabrasion treatment and winner of Best Advanced Treatment two years in a row at the National Beauty Awards. With over 2,200 accredited salons and spas in the UK & Ireland, there's bound to be a salon near you.
Are you a beauty professional, and would like to offer SkinBase™ treatments? Find out more.