After all the excitement of January, it's time to take a look at those entries coming info for February! If you haven't started your course of treatments yet then now is the time to get booking. Each of our SkinBase treatments has its own benefits with some crossover between depending on what it is your are trying to achieve for your skin. We have already seen some life-changing results and some of the stories have had us sat here in tears. 
February Transformations
Let's take a look at those results we are seeing… 
Sarah at Hidden Beauty has transformed this client's skin and listen to what she had to say about her experience:
"My skin acne has affected my confidence for a while now and after years of trying different methods to clear my skin, I made the decision to see Sarah at Hidden Beauty for a course of Microdermabrasion facials.  It is safe to say, it was the best investment I have EVER made. Sarah explained the treatment in so much detail and her passion for the treatment filled me so much confidence – I couldn't resist but try! 
From just the first treatment, I felt the benefits of Microdermabrasion. My skin felt smoother, clearer & brighter! And it just got better and better each week. I still continue to visit Hidden Beauty for a monthly Microdermabrasion facial to help keep my skin feeling it's very best. 
I highly recommend this facial! Before beginning my skincare journey, I wouldn't leave the house without any make up on but now I can go out proudly makeup free! 
Thank you Sarah for your hard work and giving me my confidence back!!"
What fantastic feedback and it's not the first time we have heard how a course of SkinBase microdermabrasion has given clients the confidence to go out makeup free. Find your nearest therapist today: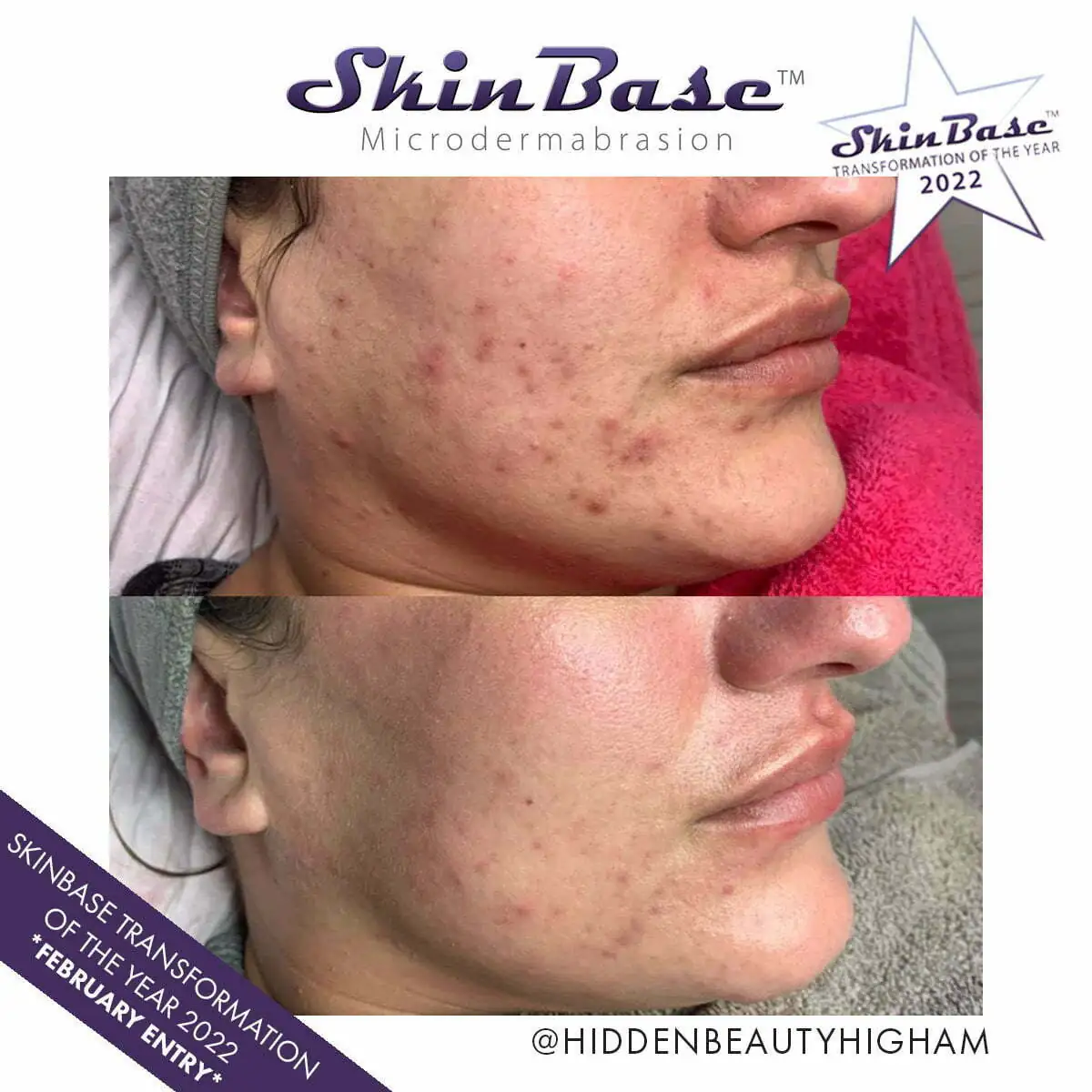 Ocean Beauty in Elgin, Scotland has completed a course of 6 microdermabrasion facials for her client. "My client suffered with textured skin that had scarring from acne and enlarged pores. After the 6 week course she definitely noticed a difference in how smooth her skin was, and and the reduced scarring on her face. She comes back every 4 weeks for a maintenance appointment"
Serenity in Wednesbury has really ironed out those surface lines to transform this client's complexion with a course of Collagen Lift.
The Top picture is before any treatment' bottom left is after 3rd treatment and bottom right is after the 6th treatment! Wow just fantastic, get your course booked and it could be you taking home the SkinBase Transformation of the Year title and jetting off on a Caribbean holiday!