Whether it is a nasty outbreak of spots, the onset of premature ageing or uneven skin tone, at some stage everybody looks in the mirror and hates the appearance of their skin. Making subtle but well worthy lifestyle changes can help significantly to even out skin tone. Here are some handy tips to get you back on track to beautiful skin…
Keep drinking. H2O that is!
It's simple, eight glasses a day keep the wrinkles and uneven skin tone at bay. You know what you have to do if you want to keep your skin even and plump like a baby's bottom. We're putting it first because it's important, OK?
Sun cream
The sun is your worst enemy, no questions. According to a recent study by the Skin Cancer Foundation (SCF), the sun's rays pass through a whopping 80 per cent of clouds. It is vital that we protect our skin and apply sunscreen, even if it isn't a scorching summer's day. This will not only prevent premature ageing but it will also ensure you don't develop any age spots that play a big part in an uneven skin tone.
Healthy diet
We all know gorging on junk food is never the answer. Bin the junk food and stock up on fresh fruits and vegetables. Stick to foods rich in antioxidants, such as salmon and blueberries, to help even out skin tone.
Microdermabrasion
Microdermabrasion is the most popular treatment for people with uneven skin tone – as well it might be after you've seen the before and after pics! A pain free procedure that works to stimulate collagen by gently blasting crystals across the surface of the skin, coupled with no recovery time, this procedure is tried and tested! Find a therapist in your area.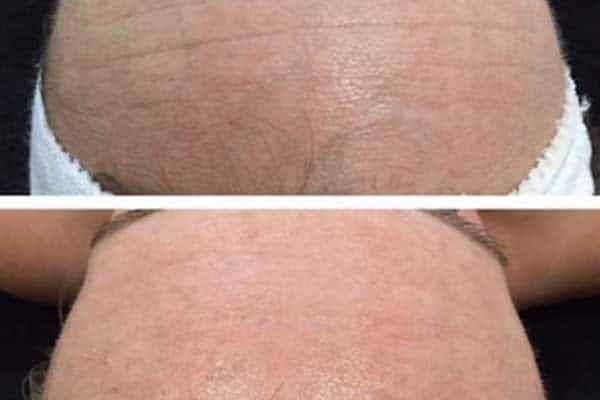 Regular exercise
Exercise is known to have many health benefits, such as controlling weight, keeping the mind sound, as well as the little-known ability to stop producing new skin cells. This, in turn, will not only keep your waist trim but keep your skin even, young and glowing.
With these subtle life changes, you are bound to banish the uneven skin tone to a thing of the past.
Good luck,
SkinBase X
image:istock.com/utkamandarinka