If you haven't heard yet, throughout 2022 we are searching for the very best client transformation from a course of SkinBase treatments. The winning client will jet off to Barbados with BBD$2000 to enjoy 10 days of glorious sunshine and beautiful sandy beaches. What's more, we've got 4 x monthly prizes (2 for the winning clients, 2 for their therapists) worth £500 each. How to enter? Ask your SkinBase therapist for details or read more about it right here.
Rebecca Willshee enter another fantastic transformation to the competition this month! My client has been so thrilled with her results and this is what she has to say…
Client Testimonial
"At the age of fifty something this is the first time I have pampered myself by having the 6 week SkinBase Microdermabrasion Facial treatment. I have been truly  amazed by the results and would recommend without doubt. My skin feels fresh, invigorated and my pigmentation spot on my check has lightened dramatically, which I am absolutely thrilled with. On the back of my results have consciously began taking in more water to hydrate my skin as I now know the impact this has together with the treatment received."
For me this treatment has made a significant improvement to her forehead and pigmentation mark. As her therapist I am so pleased we have achieved such amazing results!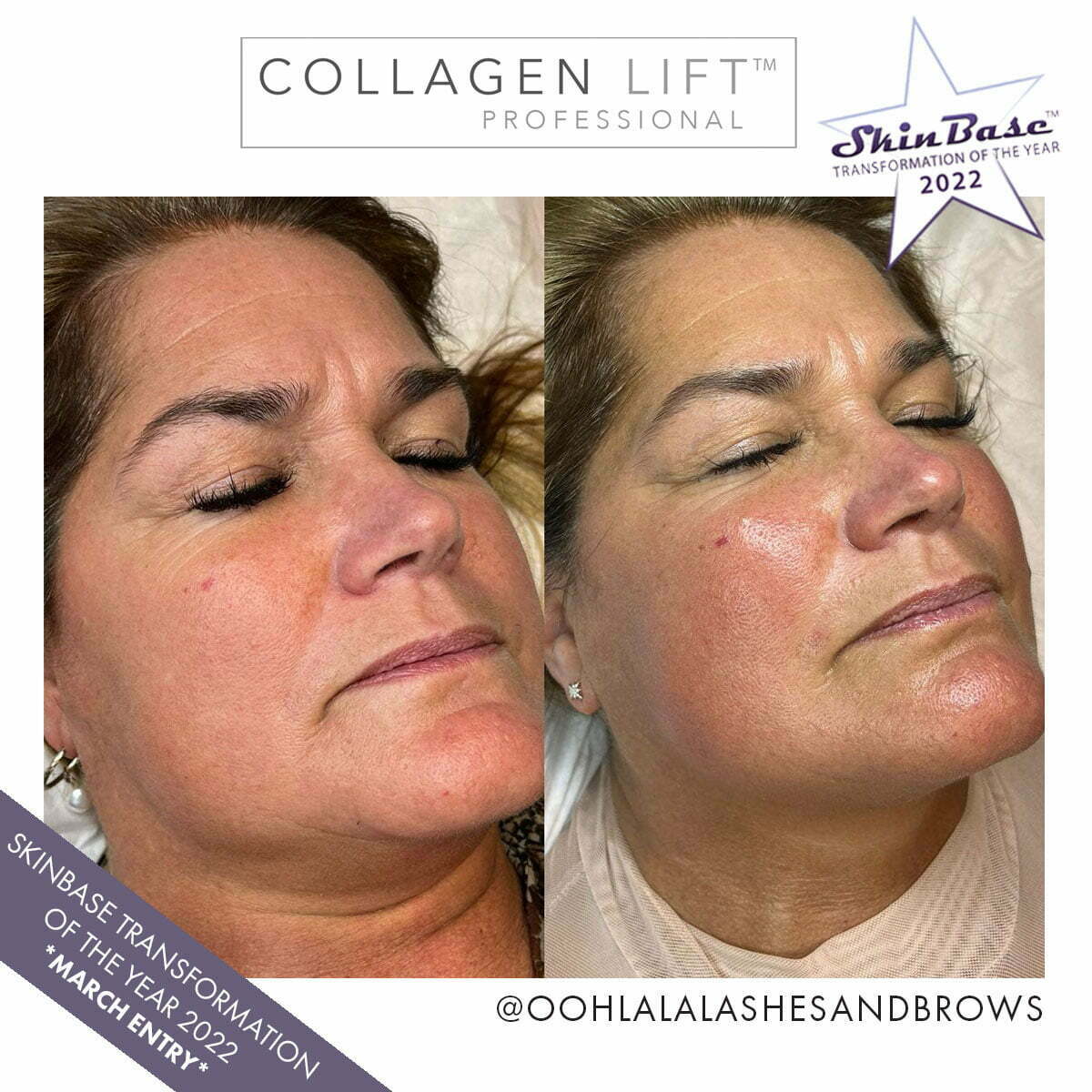 A fantastic transformation from Ooh La La Lash & Brow Studio. A 6 week course of Collagen Lift has impressed this client with the results. In fact she was shocked by here results!! 
Client Testimonial
Here's what the client had to say: "I have just completed my collagen lift course and I am so pleased with the results, in fact I am shocked with the results, so much that I feel like a new woman. Elyse explained the whole process to me and asked what I would like to achieve, which I explained I would like my neck and jowls lift without the need of any surgery. The treatment felt like having a relaxing facial with a small amount of heat, I can only liken it to being on a beach and having a spa treatment in the sun. My skin feels brighter, softer and the lift has done wonders and makes me feel a whole lot younger. I would not hesitate recommending this treatment to anyone. "
The results of Collagen Lift truly are transformative for so many people, Collagen Lift lifts, tightens, contours and tones. Find your nearest therapist now…
Loving these results from our award-winning microdermabrasion treatment. It's not hard to see why this treatment won Best Advanced Treatment not just once but twice! Beautique's client started with a mini course of MD to help reduce fine lines & has continued to have a monthly maintenance. SkinBase therapist Donna says "Jade has tried other treatments we have to offer but has always gone back to this results driven treatment, it suits her skin perfectly & the results speak for themselves. Jade is a loyal & dedicated Client who takes great care of her skin & always carries out aftercare advice."
"She is already a winner for loving her skin" – What a great quote from Donna and so true! Taking care of your skin doesn't stop at the salon door!
Client Testimonial
Donna's client had this to say: "I love the way the treatment makes my skin feel, like it's all shiny and new.  Donna made me feel completely at ease about what to expect and it wasn't at all uncomfortable. Having the treatment is my little bit of self care as I love how it makes me feel and having an hour to myself . I'm blown away by the results I have less blocked pores, a more even skin tone and my fine lines are reduced. my skin feels luminous weeks after the treatment. Thank you so much Donna – you're a miracle worker and I appreciate the time, energy and passion you put into every session."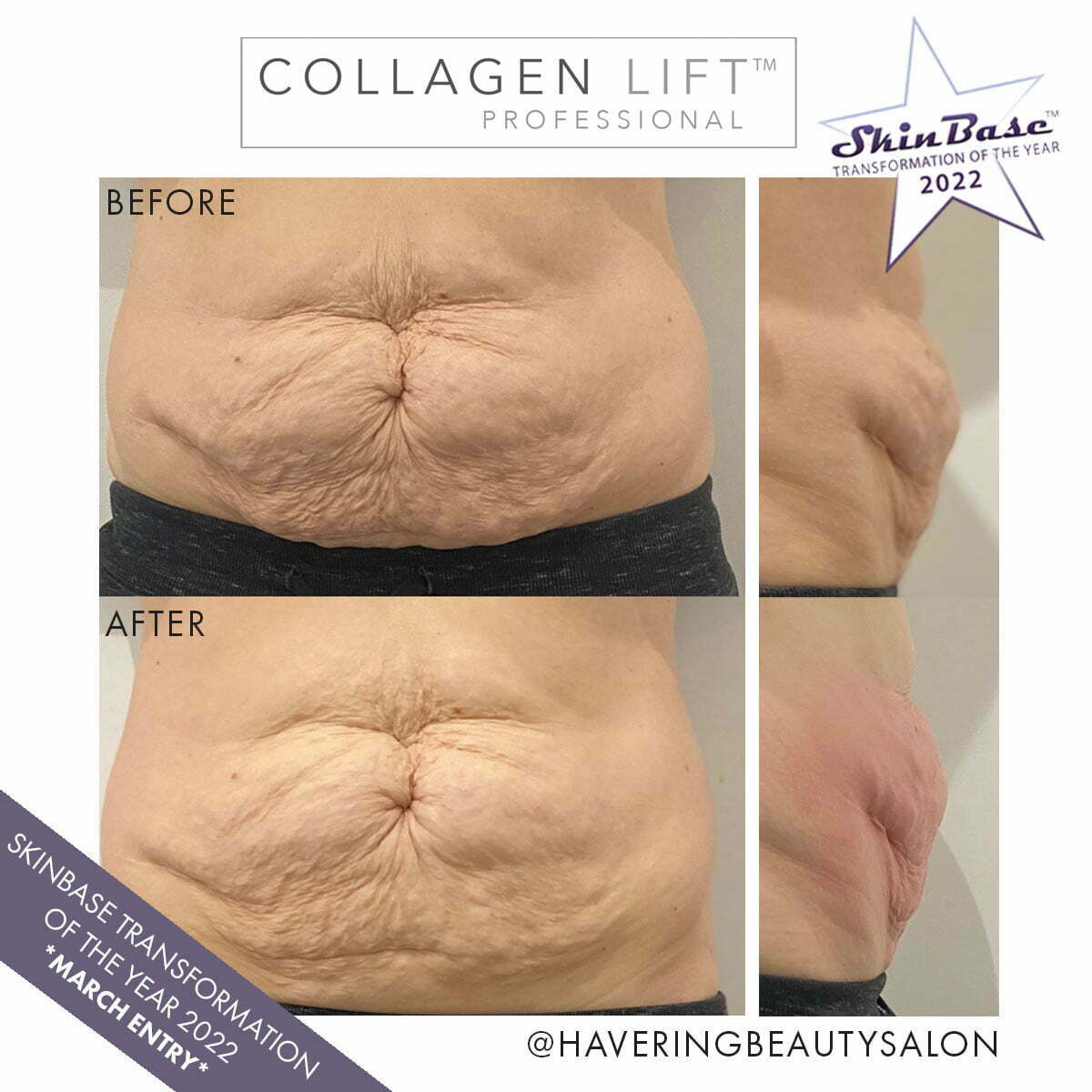 Havering Hair & Beauty Salon  have achieved these fantastic results for a client with a course of 6 Collagen Lift sessions. The client said of her experience:  'I've absolutely hated my stomach after having 2 children and was desperate for something to help and take some of the sagging away. I'm really impressed with the collagen lift just after 6 sessions, I can definitely see an improvement!' Collagen Lift can help to lift, tighten and tone, results will continue to improve as the collagen matures and strengthens. 
Knights Hair & Beauty Retreat has carried out a mini-course of Microdermabrasion to help this client with the appearance of lines around the eyes and a general brightening of the skin. Great results!