As we enter week 4 of the Transformation of the year competition the entries have really ramped up and we've got some really great ones to show you this week! 
My skin was ravaged from years of alcohol addiction and domestic abuse.
We were moved to tears here at SkinBase reading this client's comments about her transformation with a course of Collagen Lift at Bliss at Millfields in Grimsby. Here's what she had to say:
"At 54 my skin was ravaged from years of alcohol addiction and domestic abuse. I'm now sober, abstinent and in recovery with a new and much happier life – yet every time I looked in a mirror I was reminded of bad times, and what I had done to myself. It was affecting my self- esteem and confidence in my appearance.  I can't tell you the difference this treatment has made to me, both physically and mentally.  It has lifted, firmed and plumped out my skin – I look like me again! Sharon is very professional, easy to talk to and made me feel so comfortable. Every session was a little bit of 'me time' I looked forward to and the results are just amazing!"
-It's not just about how we look after a course, it's also how it makes us feel too, the confidence it gives us to go out there and feel good about ourselves. Just fantastic! Results from a course of 6 Collagen Lift and ongoing maintenance.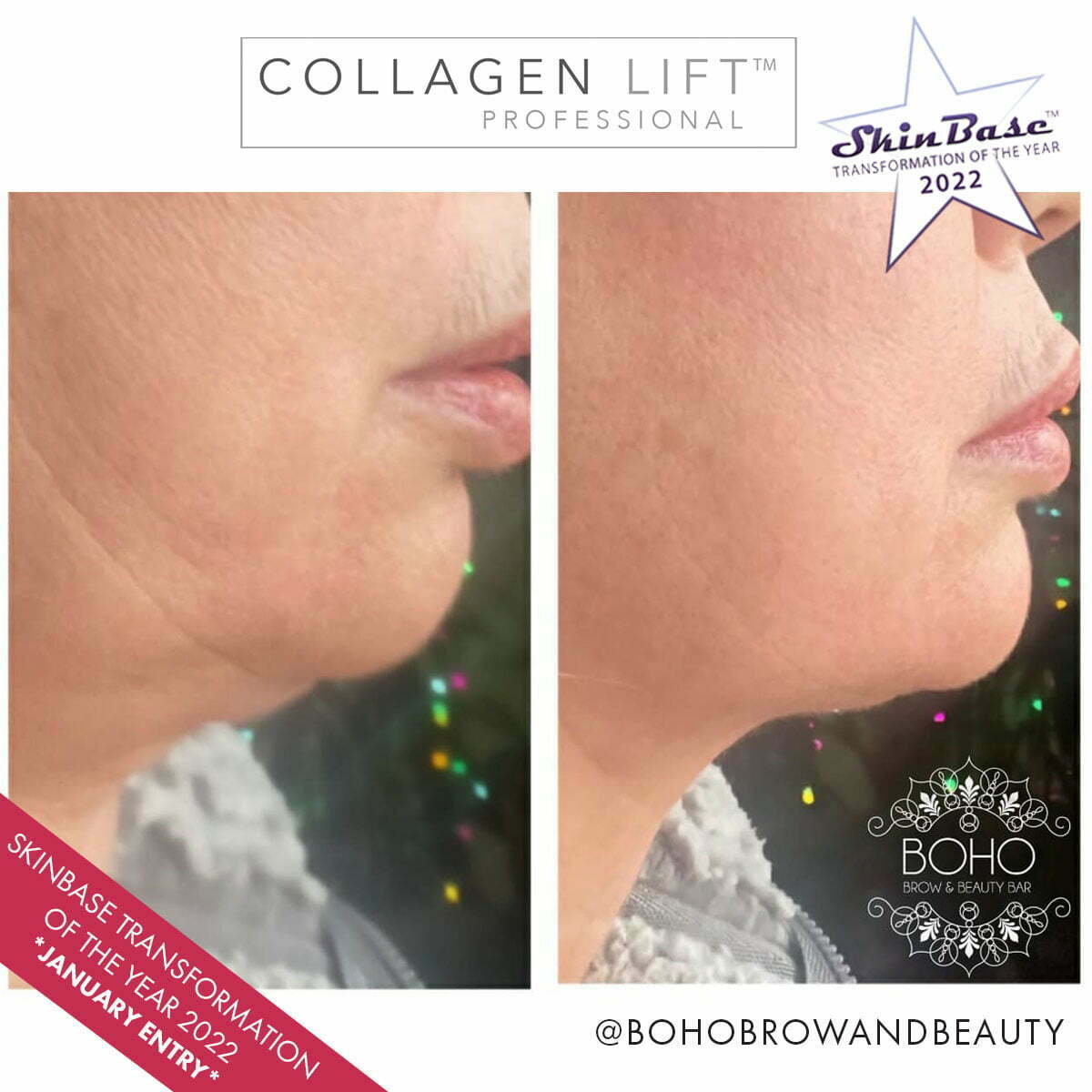 Boho Brow & Beauty Bar is seeing fantastic results like the one above from courses of Collagen Lift. Collagen Lift lifts, tightens, contours and tones. Turn back the clock on ageing skin. Their client had this to say:
"Absolutely over the moon with results as it lifts and tones my lower face. Fine lines are decreasing from my eye area and sleep/ sun damage lines on chest area are shallowing out fabulously."
Breathe Beauty's  client completed a course of 6 microdermabrasion to focus on smoothing the skin tone & a scar on her chin. The client has commented that her skin feels great and her make up now sits much better on her skin, she is very pleased with the results and has followed up with maintenance treatments. We love microdermabrasion for its ability to refine and smooth the skin surface and this result clearly shows the improvement. If you want makeup to glide on and need help to even out your skin tone, find your nearest therapist now!