Microdermabrasion for Wrinkles & Fine Lines
The SkinBase microdermabrasion anti-wrinkle treatment is the answer to younger looking skin, leaving wrinkled skin looking fresh and smooth.
The answer to younger-looking, wrinkle-free skin
As we get older we are all faced with ageing skin and a gradual increase in fine lines and wrinkles (particularly forehead wrinkles) on our faces, leaving us lusting after younger looking skin.
Often these fine lines and wrinkles can leave us looking older than we feel. Many of us would like to see our ageing skin regain its elasticity and look and feel rejuvenated.
The SkinBase Facial™ works as a targeted and effective anti wrinkle facial treatment by removing the skin's dead cells and increasing the collagen produced by our ageing skin.
The anti wrinkle treatment is the answer to younger looking skin. Noticeable after just one 'fine line busting' treatment, The SkinBase Facial™ leaves wrinkled skin looking fresh and smooth as soon as the treatment is over.
With SkinBase anti wrinkle microdermabrasion treatment, there is no recovery time and no discomfort – only a noticeable difference to fine lines and wrinkles.
Why The SkinBase Facial™ as an Anti Wrinkle Treatment for Fine Lines?
The most popular and effective technique for smoothing fine lines & forehead wrinkles
Simple and quick to perform on wrinkled skin / fine lines
Reveals younger-looking skin and acts as an anti ageing skin care treatment
Lunchtime facial (you can be back at work, fine line free, within the hour!)
Stimulates collagen to dispel fine lines and increase wrinkled skin's renewal
Our videos clearly show the amazing effects of The SkinBase Facial™ as an effective treatment for fine lines and wrinkles.
"Skin conditions such as acne and acne scarring affect thousands of people in the UK and Ireland. For those who have never suffered from the effects of acne scarring, the implications are hard to explain, but both have a dramatic effect on confidence and self esteem. The SkinBase Facial™ has quite remarkable results as an acne treatment, as Angela, a sufferer of acne, found out. After eight weeks, Angela's skin appeared dramatically smoothed, revealing even, healthy looking skin – a pretty amazing acne cure."
The causes of fine lines and wrinkles
Intrinsic ageing, also known as the natural ageing process, is a continuous process that normally begins in our mid-20s. With ageing skin, collagen production slows, and elastin, the substance that enables skin to snap back into place, has a bit less spring. Dead skin cells do not shed as quickly and turnover of new skin cells may decrease slightly.
The vacuum of the anti wrinkle microdermabrasion facial works to stimulate the production of collagen in the facial lines of the skin. As we age elastin and collagen production starts to slow down. The combination of collagen stimulation and increased skin renewal will improve the condition of the skin's surface smoothing out fine lines and deep forehead wrinkles – Microdermabrasion for wrinkles is a proven treatment.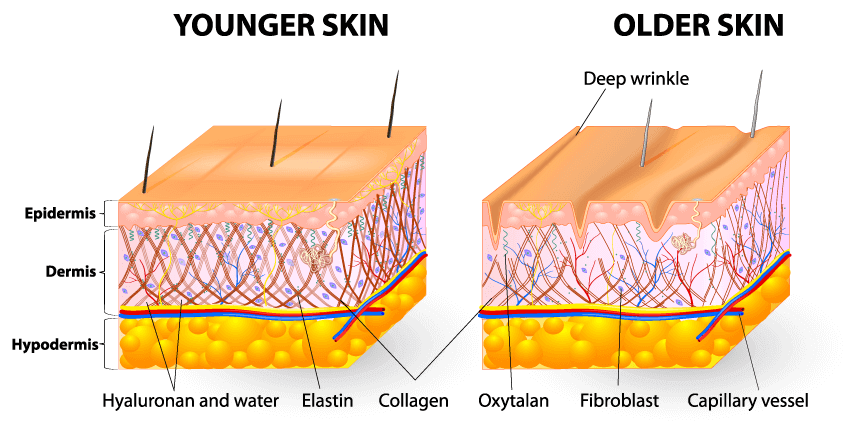 Before and after microdermabrasion for Fine Lines & Wrinkles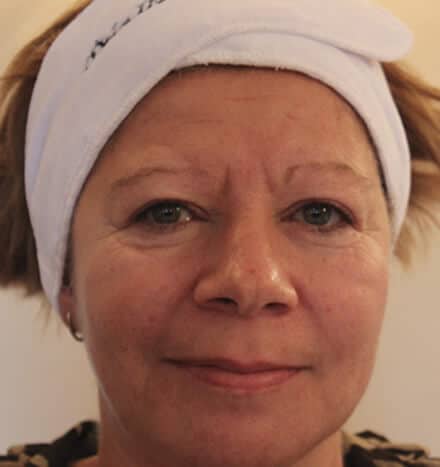 "The line between my eyebrows is definitely looking less defined. I never expected this to change as I have had it for literally years! I can't believe the difference, the lines on my forehead, between my brows & on my cheeks have reduced considerably, my cheeks look plumper & I even feel my lips look fuller."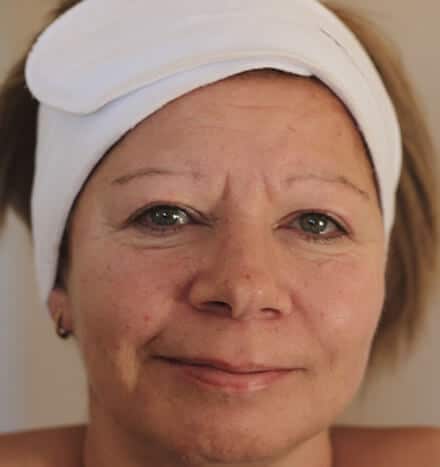 "I purposely didn't look at my before photo until I had completed the course and until now thought I just looked fresher but there has been a definite improvement & it's all down to the microdermabrasion."
Articles about Fine Lines & Wrinkles from our Blog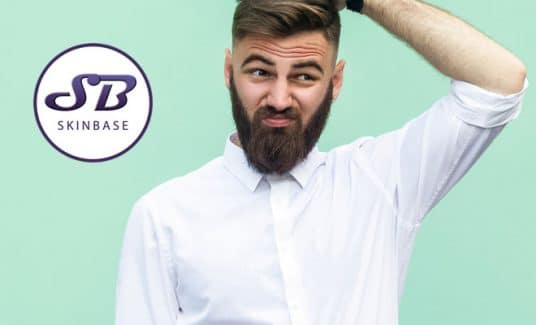 Fine Lines & Wrinkles
When did it happen? Was it during the night, or on that particularly heavy weekend in the South of France? Perhaps it was when you
Read More »
Ageing Skin
When it comes to our skin, the last thing that we all want is for it to make us look older than we actually are.
Read More »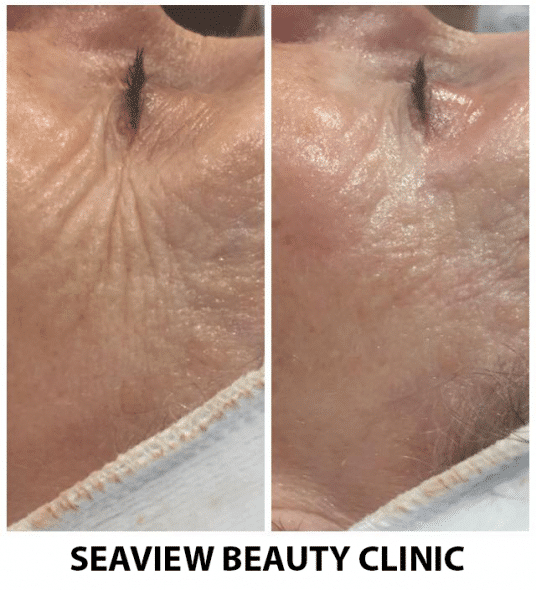 Fine Lines & Wrinkles
As we age unfortunately so does our skin. Collagen, which helps keep our skin plump and firm slows down production year on year causing our skin
Read More »
Download Our Ultimate Beauty Guide for Ageing Skin
The SkinBase™ 'Ultimate Ageing Skin Guide' has been created by beauty industry professionals. It's packed full of practical hints and tips.
If you want younger looking skin, you need this guide!