Microdermabrasion for Ageing Skin
Microdermabrasion is a simple, straightforward and painless anti-ageing treatment for ageing skin
Microdermabrasion for Ageing Skin
If you want to know more about an anti-ageing treatment that helps you to regain your youthful looks but you're wary of invasive surgical procedures then look no further.
If you're one of the thousands who are looking for an anti-ageing treatment and an answer to ageing skin, The SkinBase Facial™ is a perfect option.
Microdermabrasion works by removing the top layer of dead (ageing) skin cells using a fine jet of abrasive crystals. This promotes collagen production in your skin, resulting in fresher, younger looking skin.
How does microdermabrasion reveal fresher, younger looking skin?
If you're looking for anti-ageing treatments, you may be wondering 'is microdermabrasion good for ageing skin?' And the simple answer is yes.
We're all looking for an anti ageing treatment that actually works and microdermabrasion treatments polish and soften the skin, reducing fine lines and age spots on the face.
Microdermabrasion for ageing skin is simple and effective and can rejuvenate your ageing skin's appearance in a short amount of time with very little or no discomfort. The treatment works by removing ageing skin cells and damaged skin layers to reveal fresher, younger looking skin and a dazzling complexion.
The process is used to treat areas prone to fine lines and wrinkles. Often these lines are next to the eyes, on the cheeks, on the forehead, and the area around the mouth.
Why choose The SkinBase™ Facial as an Anti Ageing Treatment for Ageing Skin?
At SkinBase, we know that ageing and the resulting changes in your face can affect your confidence and leave you wanting to change your appearance.
Here are just some of the benefits of choosing the SkinBase Facial for ageing skin.
It's a simple, straightforward and painless anti ageing treatment for ageing skin
It's as effective as many more invasive surgical procedures, such as laser skin resurfacing, and does not require anaesthesia
It enables you to return to your daily routine (with younger looking skin!) with minimal disruption after treatment – (It's known as the "lunchtime facial"!)
It works on all types of ageing skin, including dark skin and sensitive skin
It's more affordable than many other cosmetic anti ageing skin treatments
You're left with glowing, radiant skin and younger looking skin – it's the one-stop-shop answer to anti ageing skin care
Before and after microdermabrasion
"My client has been having a course of 12 microdermabrasion facials once per week. The first picture is before we started the course and the second picture is after treatment 12. My client was over the moon and couldn't believe how her lines were so much less defined and how smoother and softer her skin felt and looked. I am so happy with these results!"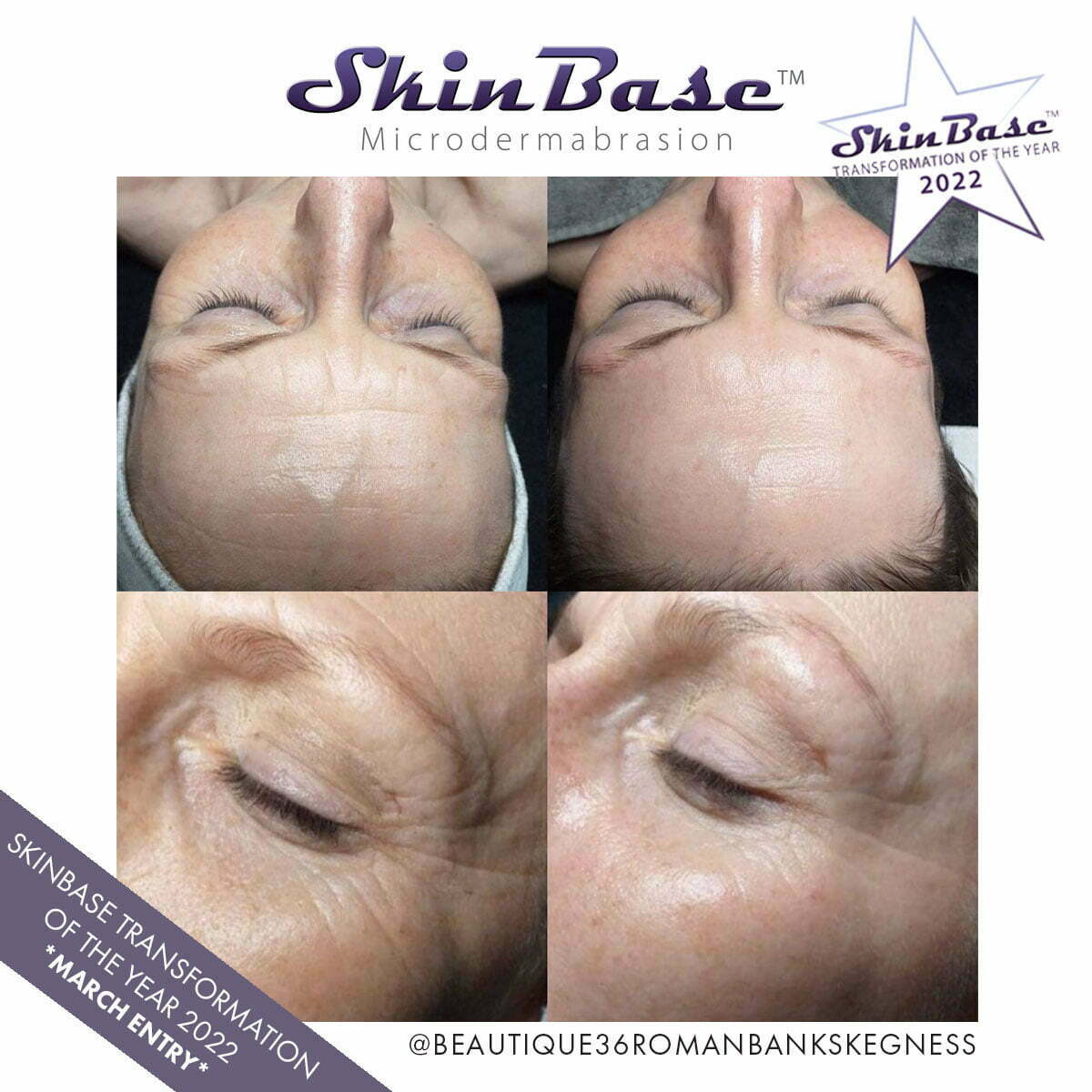 "At the age of fifty something this is the first time I have pampered myself by having the 6 week SkinBase Microdermabrasion Facial treatment. I have been truly amazed by the results and would recommend without doubt. My skin feels fresh, invigorated and my pigmentation spot on my check has lightened dramatically, which I am absolutely thrilled with."
Articles about Ageing Skin from our Blog
Ageing Skin
Skin laxity occurs when the skin loses structural integrity and firmness. It's a concern for many people, but can be treated. Find out how.
Read More »
Ageing Skin
Hyperpigmentation vs uneven skin tone? Two common skin concerns that can affect anyone. Let's explore the similarities and differences.
Read More »
Ageing Skin
Natural remedies for uneven skin tone can be just as effective, and you can DIY them at home. Let's take a look at our top 5!
Read More »
Download Our Ultimate Beauty Guide for Ageing Skin
The SkinBase™ 'Ultimate Ageing Skin Guide' has been created by beauty industry professionals. It's packed full of practical hints and tips.
If you want younger looking skin, you need this guide!