Microdermabrasion for Acne Scars
Microdermabrasion can be remarkably effective as an acne treatment. In just a few weeks of treatment, you can look forward to clearer, smoother, healthy, glowing skin.
How does microdermabrasion work for acne and acne scars?
Microdermabrasion treatments have gradually become the first choice for many people who are looking to treat acne and acne scarring, as well as a range of other skin conditions.
Surveys suggest that 95% of adolescents and adults suffer with acne or acne scarring, so you're not alone in your quest to find a cure.
Microdermabrasion is a non-invasive cosmetic treatment that helps with skin rejuvenation by removing the top layer of skin, as well as the dead skin cells. This can improve the texture of your skin and reduce the appearance of blemishes, including acne scars.
There are very few side effects associated with microdermabrasion and you can return to your daily routine straight after the treatment, making it the perfect way to reduce the appearance of acne scars on your face.
The SkinBase Facial safely and effectively reduces acne scarring, calms red and uneven skin tone, leaving healthy looking, smooth skin.
Why choose the SkinBase Facial™ and microdermabrasion for acne scars?
If you're wondering, 'does microdermabrasion work for acne scars?', take a look at the benefits the SkinBase Facial can provide:
Reduced acne scarring
Improved skin appearance and texture
Improvement of skin and acne scarring from the very first session
Completely painless procedure
Relaxing treatment
Calms red and uneven skin tone leaving you with glowing, revitalised skin
Stimulate new collagen and elastin production to strengthen the skin
Increase blood flood to the area improving nutrient and oxygen circulation
Stimulate lymphatic system to remove waste products
1. Clear Pores. This shows a heathy follicle and sebaceous gland.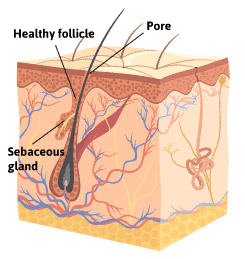 2. Duct clogged by dead cells, sebum starts to accumulate.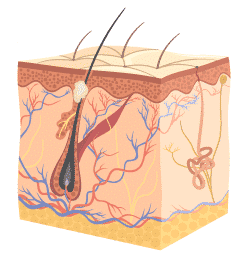 3. Bacterial infection, inflammation triggered – Pimple.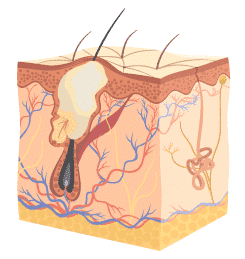 4. Follicle ruptures, pustule with fluid is formed, resulting in Acne.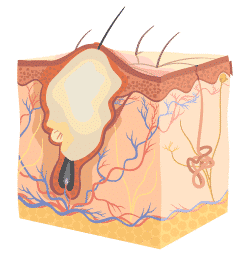 Acne lesions or pimples happen when the hair follicles or 'pores' on the skin become plugged with oil and dead skin cells. A plugged follicle is the perfect place for bacteria to grow and create the red bumps and pus-filled red bumps known as pimples.
Scarring caused by acne looks very different from any other scars – it's the deficit of collagen in the specific region that gives rise to acne scarring. After the acne has subsided, the affected skin region needs collagen to heal and if the skin underlying the subsided acne doesn't have it, then it tends to scar during the healing process thereby giving rise to an ice pick scar.
Most serious acne scarring is caused by the more severe forms of acne, with nodules more likely to leave permanent scars than other types of acne.Your skin type will have an impact on the acne or acne scarring you have and whether microdermabrasion is the best treatment for you.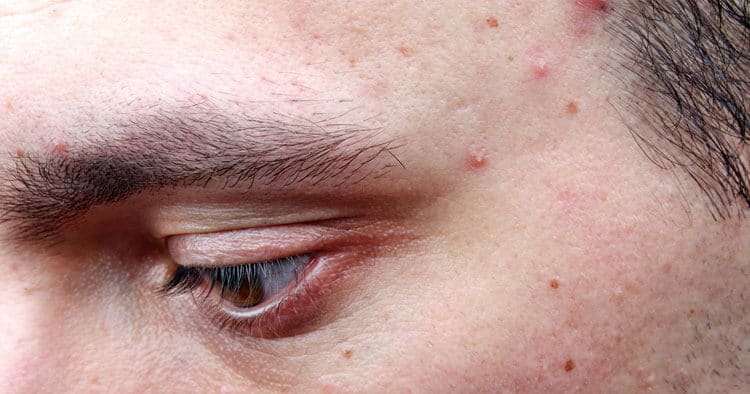 This refers to the whiteheads or blackheads that most of us get at various times in our lives. It is annoying, but not debilitating.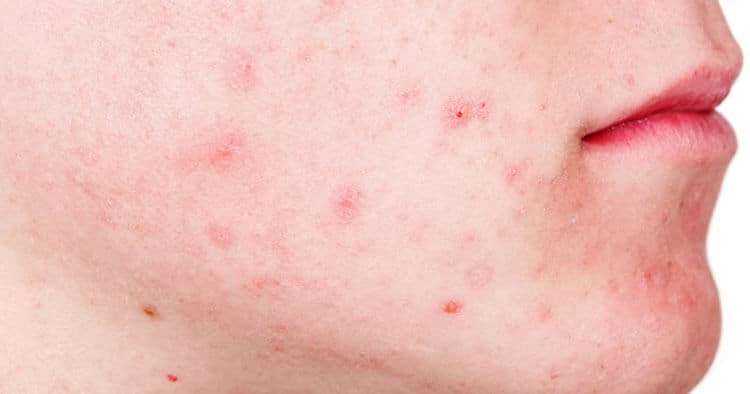 This type of acne includes red inflamed pimples called papules and red pimples with white centres called pustules.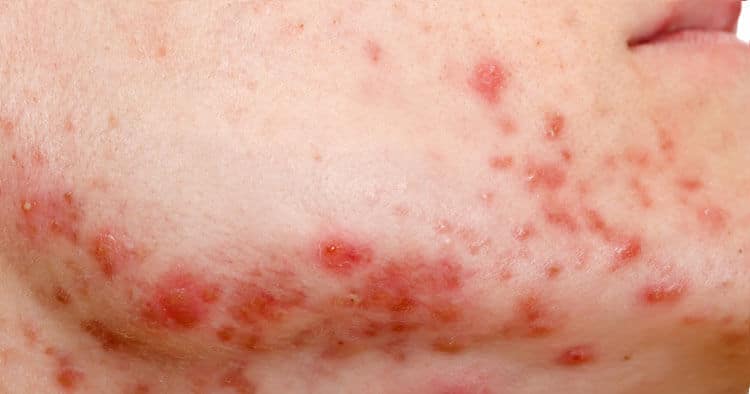 This severe acne causes nodules — painful, pus-filled cysts or lumps to appear under the skin.
Microdermabrasion is usually best for treating acne scars or non-inflammatory acne. If it's used on inflammatory acne, it can have a negative impact and make the skin feel more sore and raw.
Microdermabrasion for acne scars before and after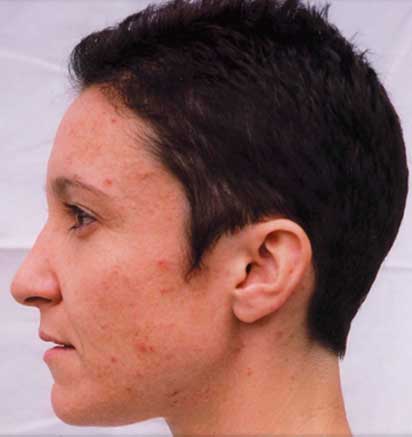 "I'd had bad skin since I can remember, I exacerbated the problem by piling on make up and generally picking at breakouts. People who have never suffered from bad skin don't realise how debilitating it can be. After spending hundreds of pounds on make up, I was desperate to find a solution that worked. "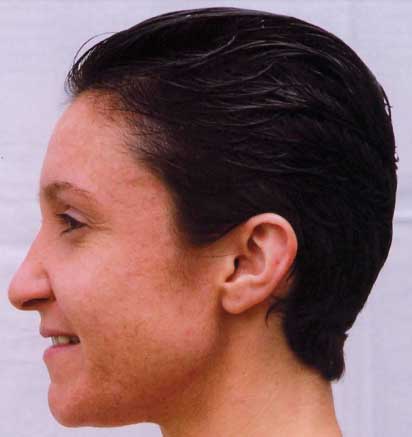 "The SkinBase Facials™ have made such a vast improvement to my skin that wearing foundation has for the first time in many years become a choice rather than a necessity, I can honestly say without a shadow of a doubt that the treatments have made such a huge improvement to my skin. I feel amazing."
"I started having Microdermabrasion due to really bad skin flare ups that would be a mixture of spots, welts and boils with terrible dry skin around the nose area. It was painful and totally destroyed my self confidence, stopping me leaving my house as I felt hideous. I saw an advert for SkinBase microdermabrasion with Hollie and thought it's now or never to try this treatment. I was so nervous and self conscious going but my father supported me by driving me to the door of the salon."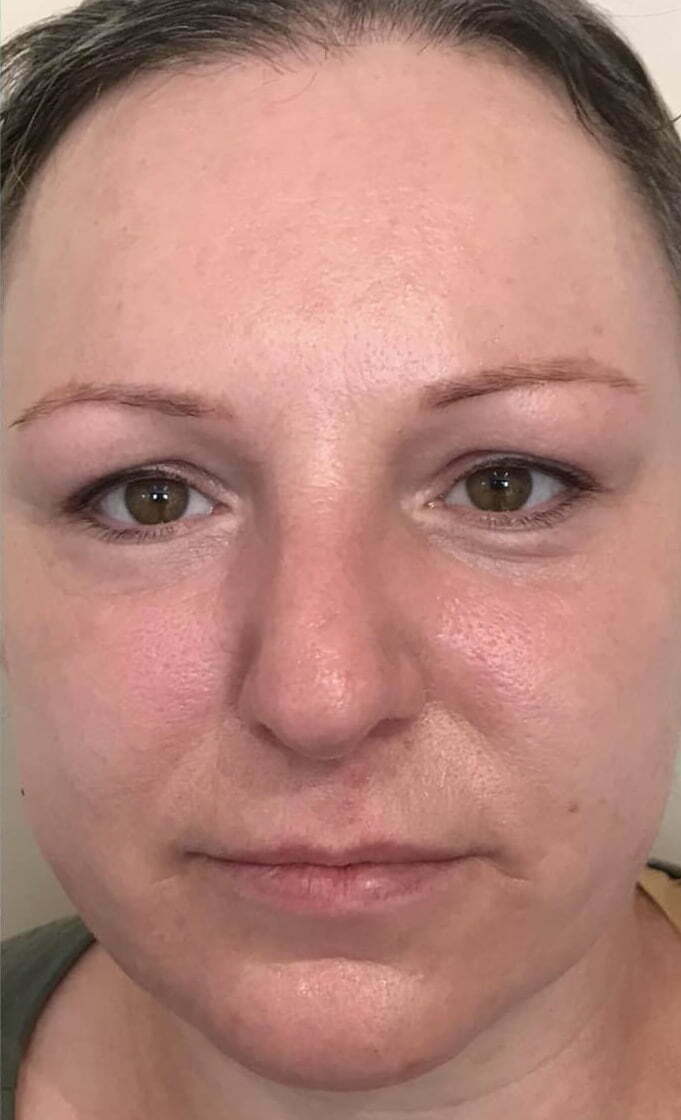 "After a course of treatments my skin was glowing. It was clear, it was healthy and bit by bit my confidence came back and I started going for a coffee and cake after my treatments! 
I have kept up with regular microdermabrasion with Hollie and now I can walk around make up free having good skin, it literally gave me my confidence to get my life back and speak to people again. 
I love my skin and will always have microdermabrasion to keep it in this condition."
Articles about Acne from our Blog
Acne & Acne Scarring
Almost everyone experiences acne on their face at some point in their lives. IPL for acne is a great choice of treatment.
Read More »
Acne & Acne Scarring
Microdermabrasion is incredibly effective at treating acne, but don't just take it from us. See the microdermabrasion acne results for yourself.
Read More »
Acne & Acne Scarring
Spots appear at the most inconvenient times, and the urge to squeeze them can be high. Find out why you shouldn't be popping pimples.
Read More »
Download Our Ultimate Guide to Acne and Acne Scarring
Suffering from acne or acne scarring? Is microdermabrasion good for acne? At SkinBase it's one of our most common skin complaints. We've compiled a brilliant FREE ebook to give you information and top tips to understand what acne is, why you get it and most importantly how to get rid of it.
Want clear skin? Download this guide!