Microdermabrasion facial benefits
Microdermabrasion is a non surgical cosmetic procedure designed to treat a number of skin conditions and leave your skin feeling fresh and smooth.
A course of microdermabrasion can be used to give your skin a healthy glow or to target more specific requirements such as fine lines, wrinkles, scarring, sun damage & acne. Post treatment your skin continues to improve due to increased collagen & elastin production which can help with the pigmentation of your skin and improve the appearance of wrinkles.
There are a huge number of benefits of microdermabrasion on your face.
As a non-surgical method of skin rejuvenation, microdermabrasion is quick, convenient and painless, immediately restoring younger, smoother looking skin without the need for chemicals, lasers or injectables. The treatment exfoliates the skin to remove dead skin cells and leave your skin feeling and looking brighter and smoother.
One of the biggest benefits of microdermabrasion is that it's a completely safe treatment, especially when performed by a trained professional. It's not as harsh or risky as other treatments including chemical peels and laser treatment but still provides great results.
The huge number of benefits is what makes microdermabrasion such a popular treatment. Microdermabrasion works by removing the dead skin cells from your face which can provide a huge number of benefits, especially when you have microdermabrasion treatments on a regular basis.
Microdermabrasion before and after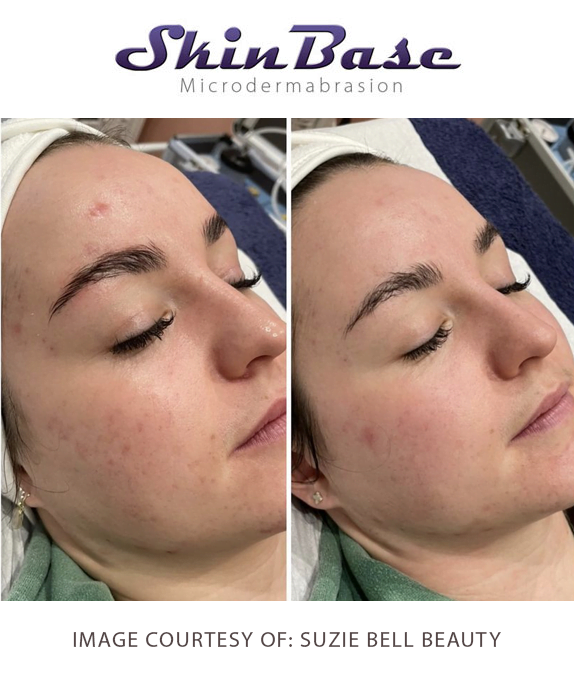 Microdermabrasion benefits include:
A single SkinBase™ treatment can remove up to three times the number of dead skin cells in a single session than other exfoliating treatments. It can also help to improve the appearance of a number of skin conditions, leaving your skin feeling smooth and fresh.
Improves skin tone and texture
After having a series of microdermabrasion treatments, you should notice an improvement in the tone and texture of your skin. As a deep exfoliation treatment that works by removing the top layer of skin, microdermabrasion can also soften fine lines and wrinkles. If you have acne scarring, you can expect to see a reduction in the appearance of scars.
Microdermabrasion encourages cell renewal, which means your skin will benefit from improved elasticity, a smoother texture and reduced signs of ageing.
Unlike many skin rejuvenation treatments, microdermabrasion is non-invasive, so requires zero recovery time. It is often referred to as the 'lunchtime facial' because of its convenience and effectiveness.
Enhanced product absorption
Microdermabrasion removes the dead skin from your face and, once these are gone, and your pores are clear, your skin will be able to absorb your skincare products much better.
Microdermabrasion is suitable for all skin types, and therapists will assess your skin before advising on the number of treatments you will need. Whether you have normal, combination, acne-prone or sensitive skin, microdermabrasion can help!
Flexible to Suit Individual Skin Types
The treatment settings are widely adjustable; meaning therapists are able to tailor the treatment to individual skin types and problems.
Specific Skin Problems that Benefit from Microdermabrasion
The benefits of microdermabrasion are many, but what exactly can it treat? We've listed some of the skin complaints that microdermabrasion can treat, below. Click for more information. 
Make An Appointment With Your Local SkinBase™ Therapist
SkinBase™ is the leading microdermabrasion treatment and winner of Best Advanced Treatment 2018 and 2019 at the National Beauty Awards. With over 2,200 accredited salons and spas in the UK & Ireland, there's bound to be a salon near you.
Are you a beauty professional, and would like to offer SkinBase™ treatments? Find out more.