Microdermabrasion Before and After
A picture speaks a thousand words, see the results from microdermabrasion treatments (The SkinBase™ Facial) from just some of our happy clients. You can also find out more about what to expect before and after your microdermabrasion treatment.
Client success stories from SkinBase™ Practitioners​
The skin is our body's largest and most complex organ, and it comes with its fair share of problems; acne, lines, wrinkles,, hyper-pigmentation, the list goes on. So what can you do to help combat these issues?
Introducing The SkinBase™ Facial. Using the established technique of crystal microdermabrasion which gently exfoliates the outermost layers of your skin promoting growth of new skin cells. Studies have shown the improvements can even be seen in the deeper layers of the skin (dermis) giving fantastic results over a course of treatments.
But don't just take our word for it, our client microdermabrasion before & after images speak for themselves. And if you'd like to know more about this amazing treatment, a good place to start would be our 'what is microdermabrasion?' page.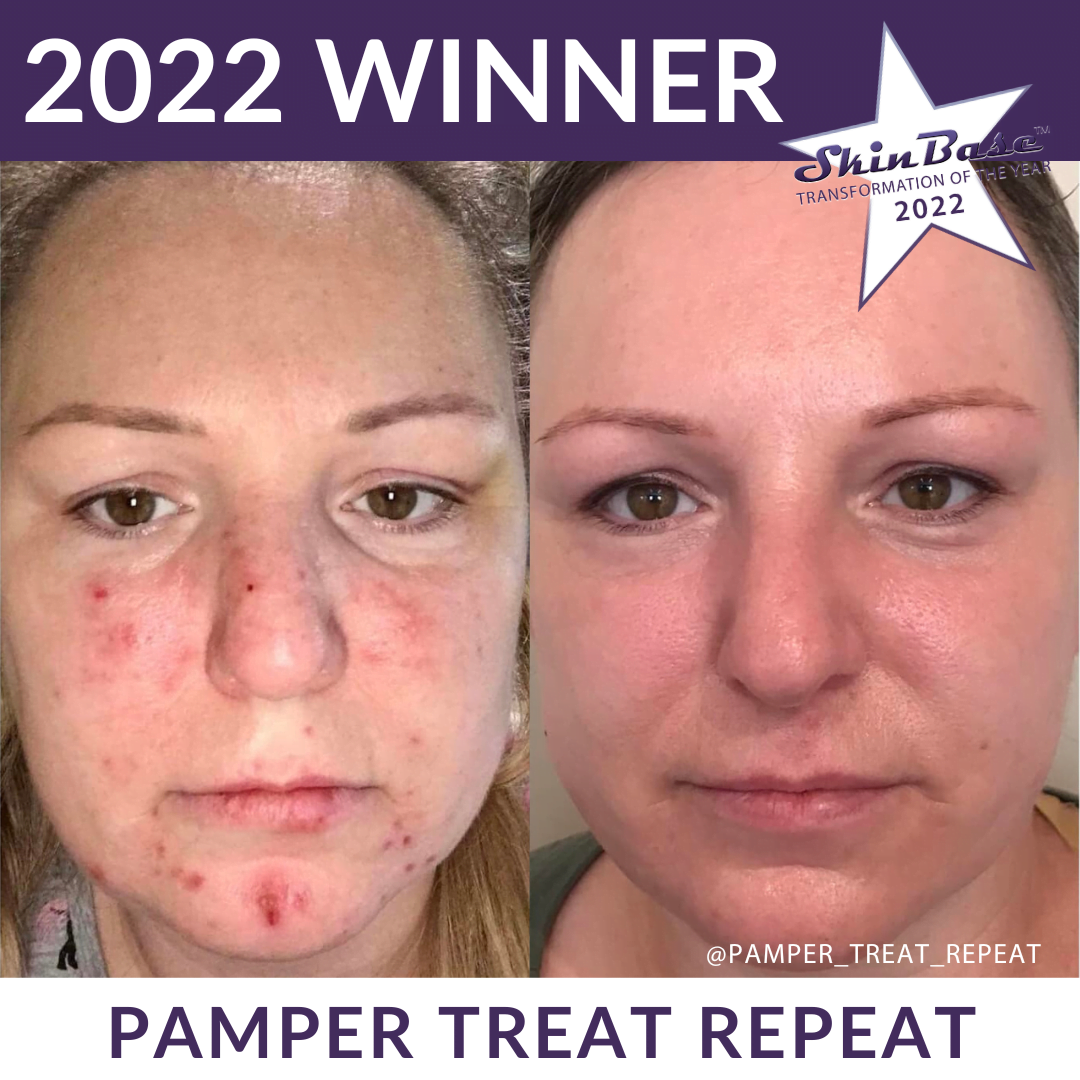 "I started having Microdermabrasion due to really bad skin flare ups that would be a mixture of spots, welts and boils with terrible dry skin around the nose area. It was painful and totally destroyed my self confidence, stopping me leaving my house as I felt hideous. I saw an advert for SkinBase microdermabrasion with Hollie and thought it's now or never to try this treatment. I was so nervous and self conscious going but my father supported me by driving me to the door of the salon. After a course of treatments my skin was glowing. It was clear, it was healthy and bit by bit my confidence came back and I started going for a coffee and cake after my treatments! 
I have kept up with regular microdermabrasion with Hollie and now I can walk around make up free having good skin, it literally gave me my confidence to get my life back and speak to people again. 
I cannot thank Hollie enough for the professionalism and support  – especially at the start as she really did put me at ease when my anxiety was really bad. I love my skin and will always have microdermabrasion to keep it in this condition."
"Thank you Emma, you are a miracle worker. I can't tell you how pleased I am with the results I got from my Microdermabrasion sessions.
I can't believe the difference it has made to my skin. Before having the treatments I was really paranoid about the rough texture of my skin and the dark patches made me feel really self conscious. I would dread going bare faced without makeup as I was embarrassed at the dark patches and how much I felt the appearance of my skin had aged me. I didn't think it was possible to reverse the damage to my skin.
Since having the treatments I now feel and look younger and I enjoy being makeup free and allowing my skin to breathe. You have made me feel so confident again and I can't thank you enough for that. You really have changed my life for the better and I'm enjoying myself again and not hiding away. Thank you so much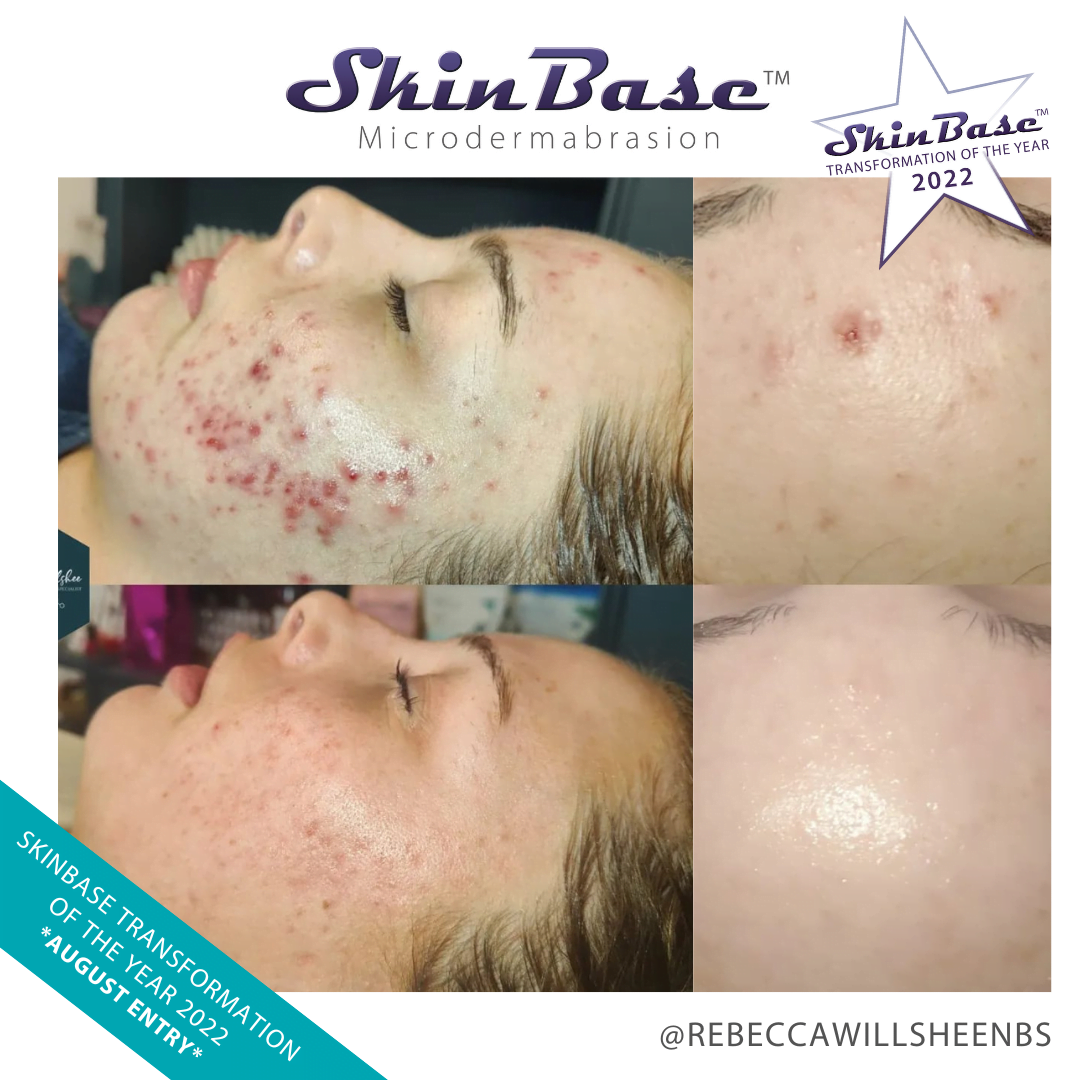 "My skin story started in peak Covid times – a combination of being burnt out from continuous work as a veterinary nurse and the pressures Covid put my body under a lot of pressure. I've never been a confident person always conscious of how I looked – then I developed severe acne out of nowhere during Covid. It destroyed the last bit of self esteem I had. 
I was so so so conscious of my skin it was not only visible under makeup but it was itchy and burnt too! Reacting to everything that would touch it. I was at an all time low especially with my skin. I tried EVERY product under the sun – all the latest tiktok trends but nothing helped. I visited a lovely therapist who was helping me treat my severely damaged skin barrier – which was when she pointed me in the direction of Becky and that's when my journey started with SkinBase! I was introduced to the SkinBase Microdermabrasion facial. I noticed a difference the very same day of having my first treatment. 
The pictures speak volumes for how you can imagine I was feeling compared to now. Fast forward a few treatments and you can see how much my skin is thriving from the help of the support, treatments and products! Even before the severe acne – my skin has never looked this glowy and healthy. It's no longer sensitive and most importantly I've found my inner confidence thanks to @skinbase_facial and @beckywillshee this will forever have a place in my skin care routine"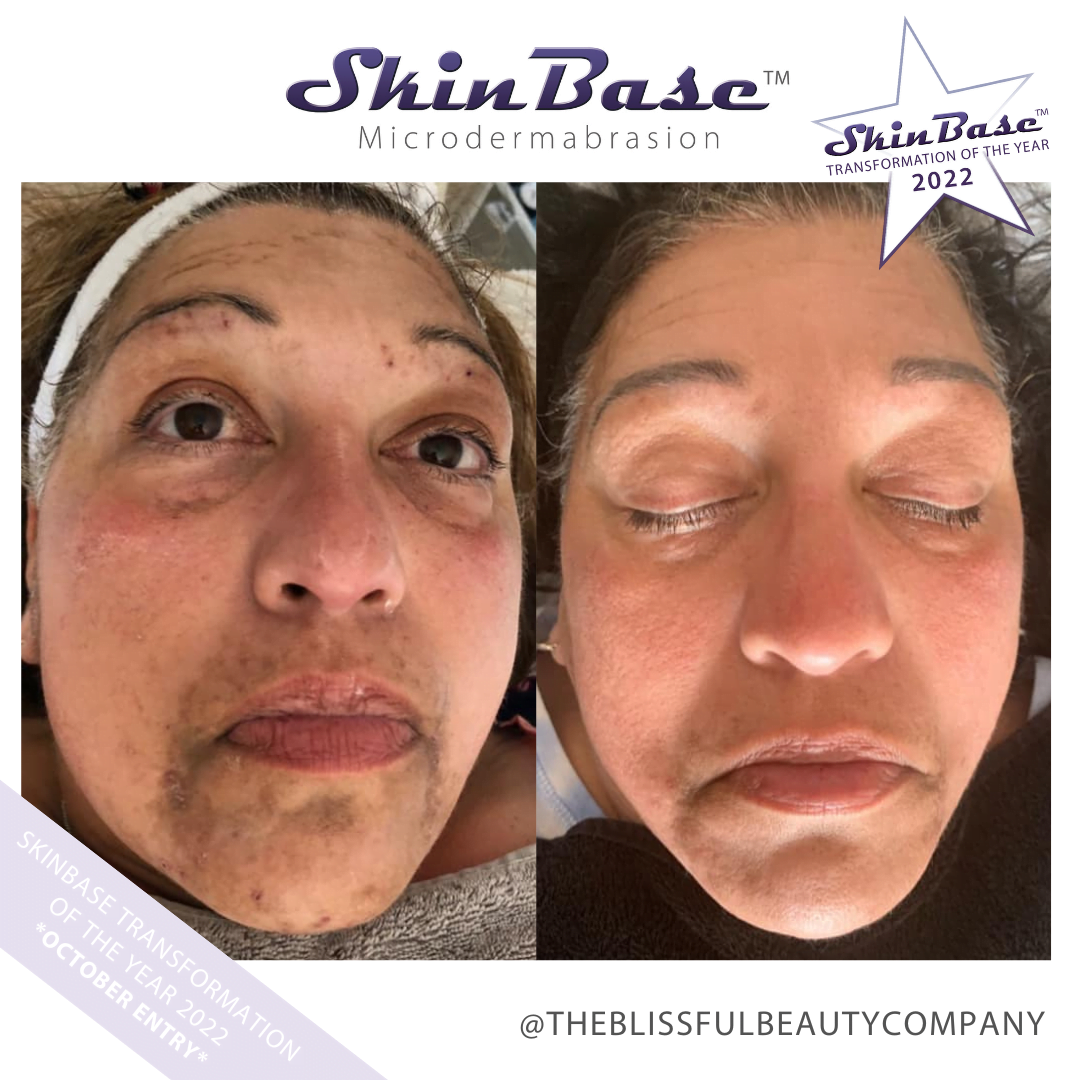 Course of 12 microdermabrasion followed by maintenance sessions
"I have been having microdermabrasion on my pigmentation with Ruth at Theblissfulbeautycompany. We started with a couple of courses to try and lift out the deep pigmentation, With each session the pigmentation was improving .
I then moved to 2 weekly then a monthly maintenance, I now have a session when I feel my skin needs it. I started to get pigmentation after the birth of my son. Sitting in the sun started to make the pigmentation spread and get darker . 
I wasn't sure if microdermabrasion would help but I can't believe the difference in my skin. I look younger, my skin is glowing and my confidence is soaring. 
Microdermabrasion is an amazing treatment by skinbase and so pleased I found Ruth the results are just incredible"
"Having suffered with acne for most of my life, for the first time in years I am confident without wearing heavy makeup in public. Ocean is such a professional and has really taken her time to recommend treatments that will give me the best results for my skin! I am delighted with my results from microdermabrasion and can't thank Ocean enough!"
"To say my skin journey has been long and arduous is an understatement. I've been on and off antibiotics to treat my adult acne for the past five years, been prescribed ointments and medication left, right and centre from the GP, had appointments with Dermatologists as well as Allergy specialists, spent and absolute fortunate on skin products (hoping I would find that one wonder product and/or range that would help me) and then, someone suggests Microdermabrasion.
Having tried everything else (did I mention I even tried lazer treatments at one point?) I thought what the heck, let's give it a go and BOOM! Ten weeks later, my skin is almost completely acne free and is as soft as a babies bottom! Im totally amazed by the results. I genuinely didn't think I would find anything that could help me having lived with adult acne for so long. The photos totally speak for themselves and microdermabrasion is now very much part of my skin care maintenance. I would encourage anyone living with adult acne to give this a go!'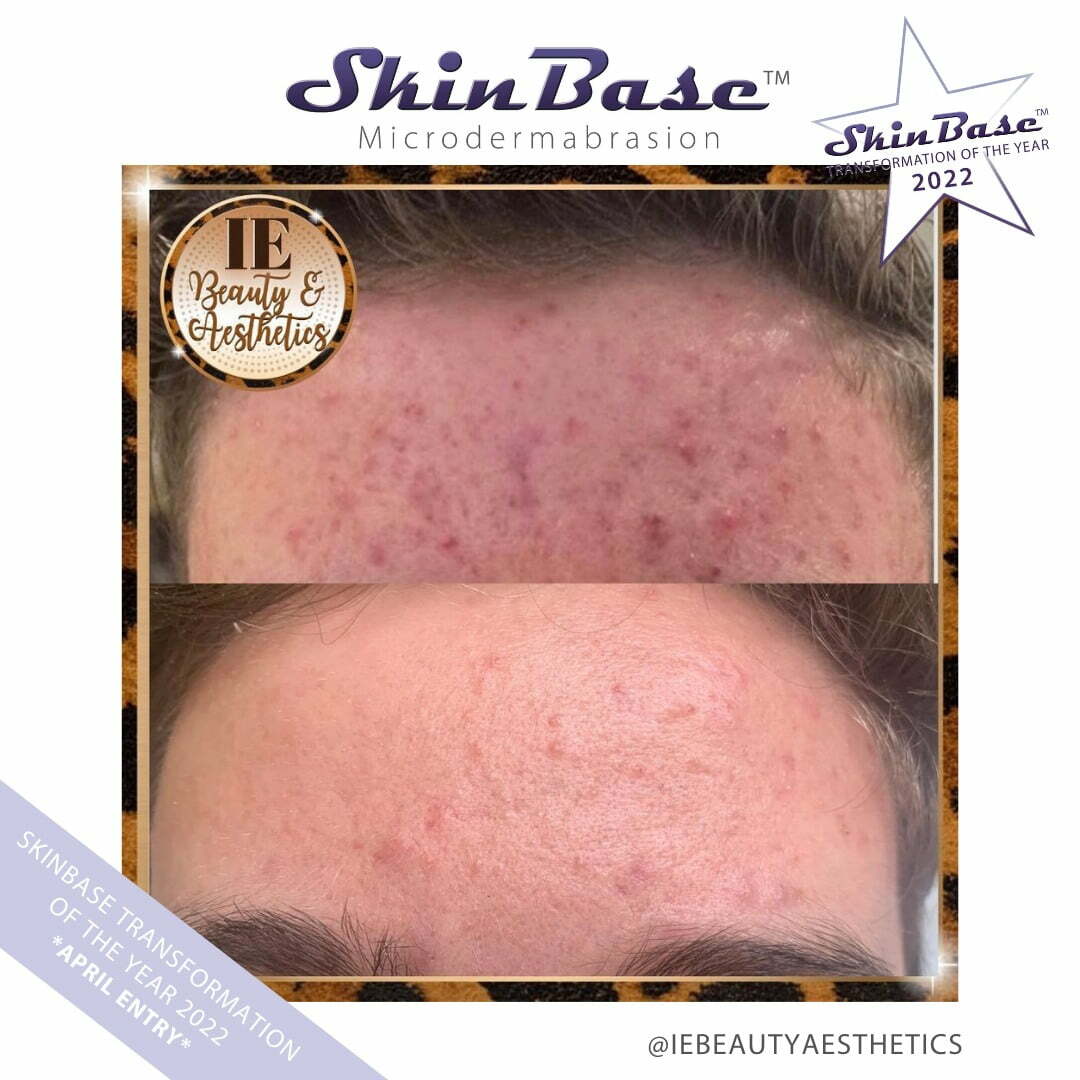 "I can't believe how good it is, it was so sore before and the scarring was awful, it's not sore anymore and it looks normal, it makes me feel more confident, facials are not just for girls, teenage boys can have them too."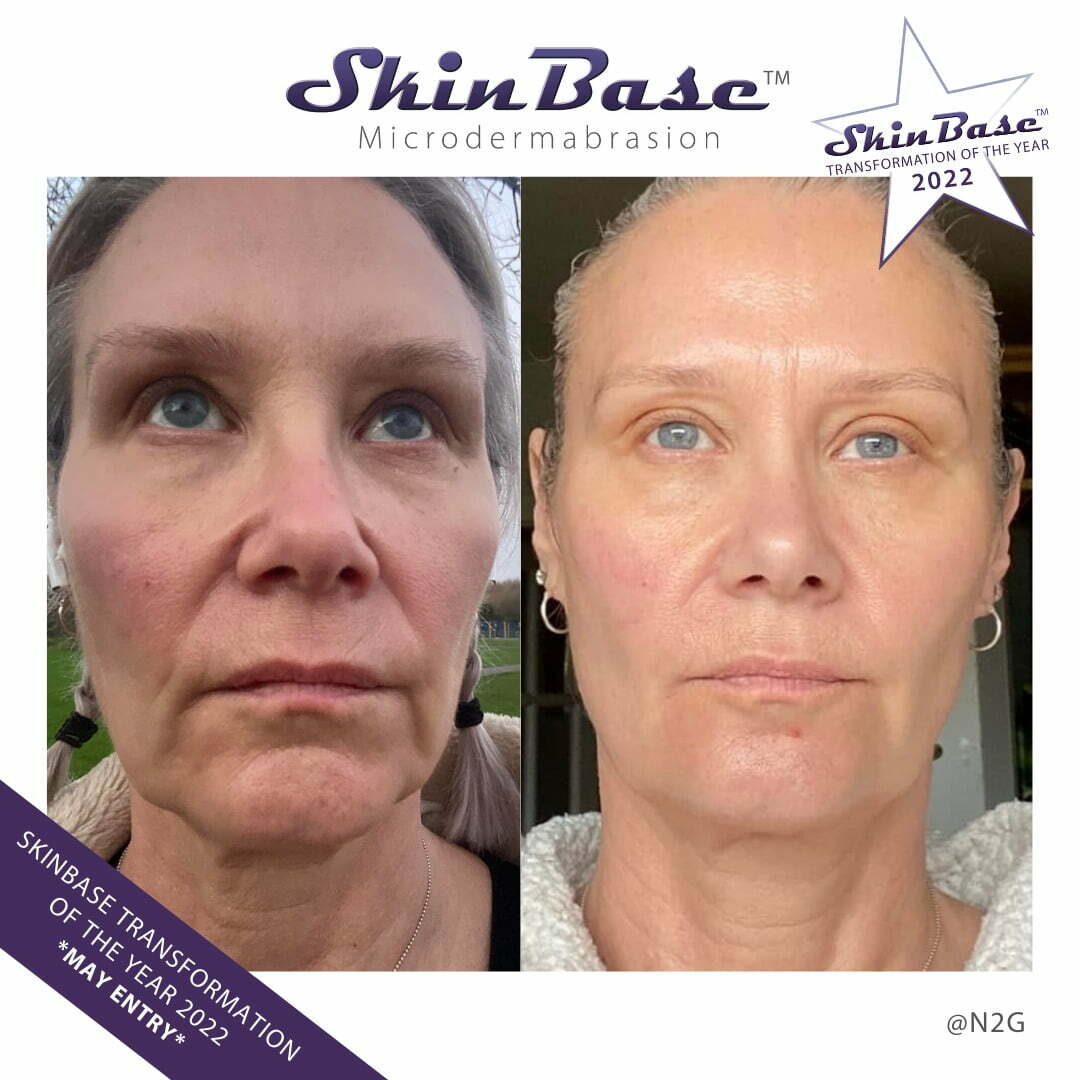 "This is me, 53 yrs of age and can I say it …….Navigating through menopause, and what a roller coaster it is. Almost over night my face went droop. I have a bit of Botox on my forward head once a year, the last time was August 2021. This seems to only exaggerate what's happening lower down, It actually made me look older and so miserable and strange. I started with a couple of weekly Microdermabrasion treatments, then onto a Collagen Lift once a week, followed by a Microdermabrasion the following day.

I am blown away with the results and until seeing the before photo had no idea of how good it really was. What I absolutely love is how subtle and gradual the changes are and so so natural, I personally don't like the harshness of fillers, especially with people like myself, more mature and having been hit by the menopause bus."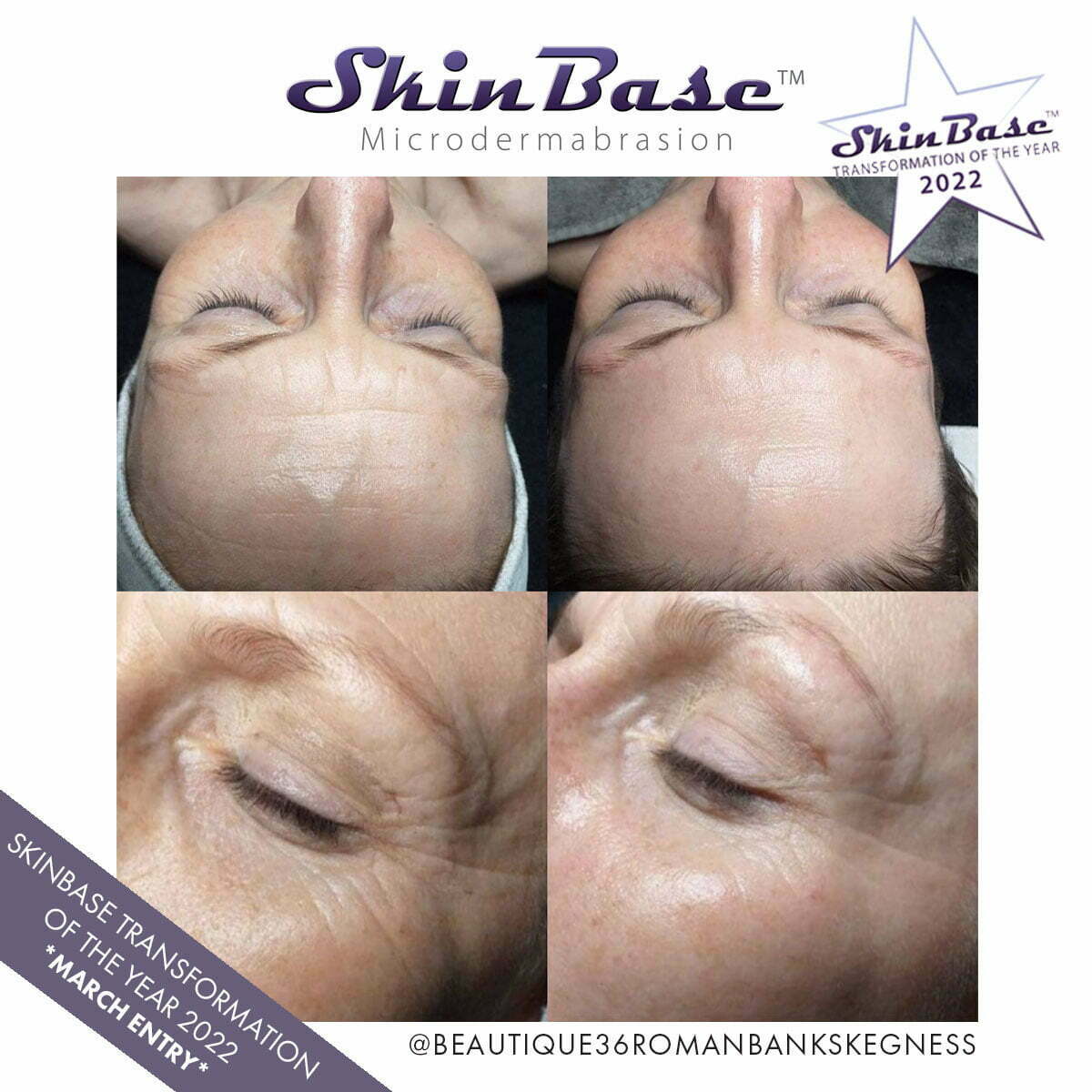 "I love the way the treatment makes my skin feel, like it's all shiny and new.  Donna made me feel completely at ease about what to expect and it wasn't at all uncomfortable. 
Having the treatment is my little bit of self care as I love how it makes me feel and having an hour to myself 
I'm blown away by the results I have less blocked pores, a more even skin tone and my fine lines are reduced. my skin feels luminous weeks after the treatment 
Thank you so much Donna – your a miracle worker and I appreciate the time, energy and passion you put into every session."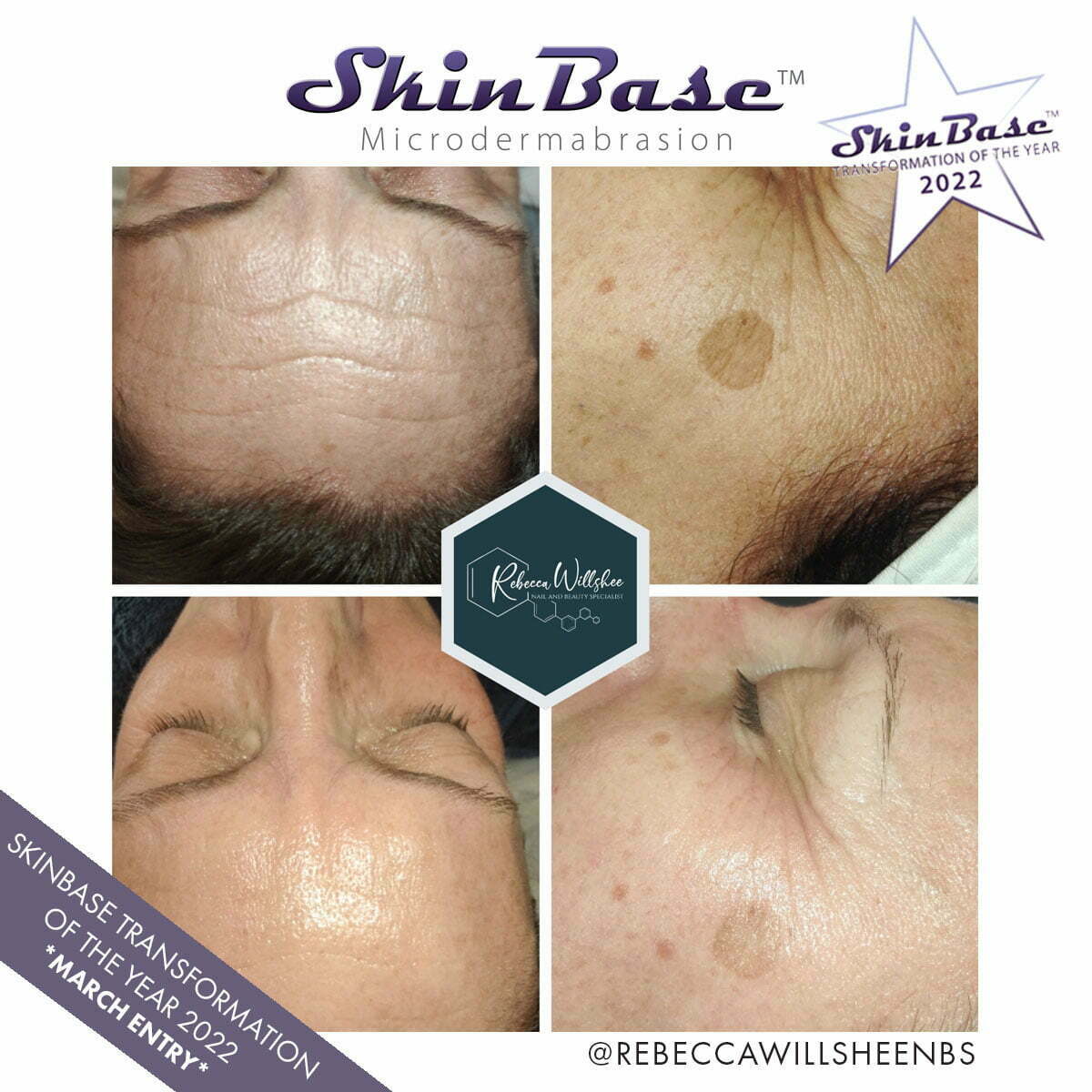 "At the age of fifty something this is the first time I have pampered myself by having the 6 week SkinBase Microdermabrasion Facial treatment. I have been truly  amazed by the results and would recommend without doubt. My skin feels fresh, invigorated and my pigmentation spot on my check has lightened dramatically, which I am absolutely thrilled with. On the back of my results have consciously began taking in more water to hydrate my skin as I now know the impact this has together with the treatment received."
"It makes me so happy having these treatments, it's like a miracle! My skin is so much more lighter and they no longer look like bruises, my mum is really happy too and lots of people have noticed, I'm well pleased, I can't believe it! It's just an amazing feeling not waking up stressing I look like I've got black eyes, really was depressing me can't wait to carry on the treatment! "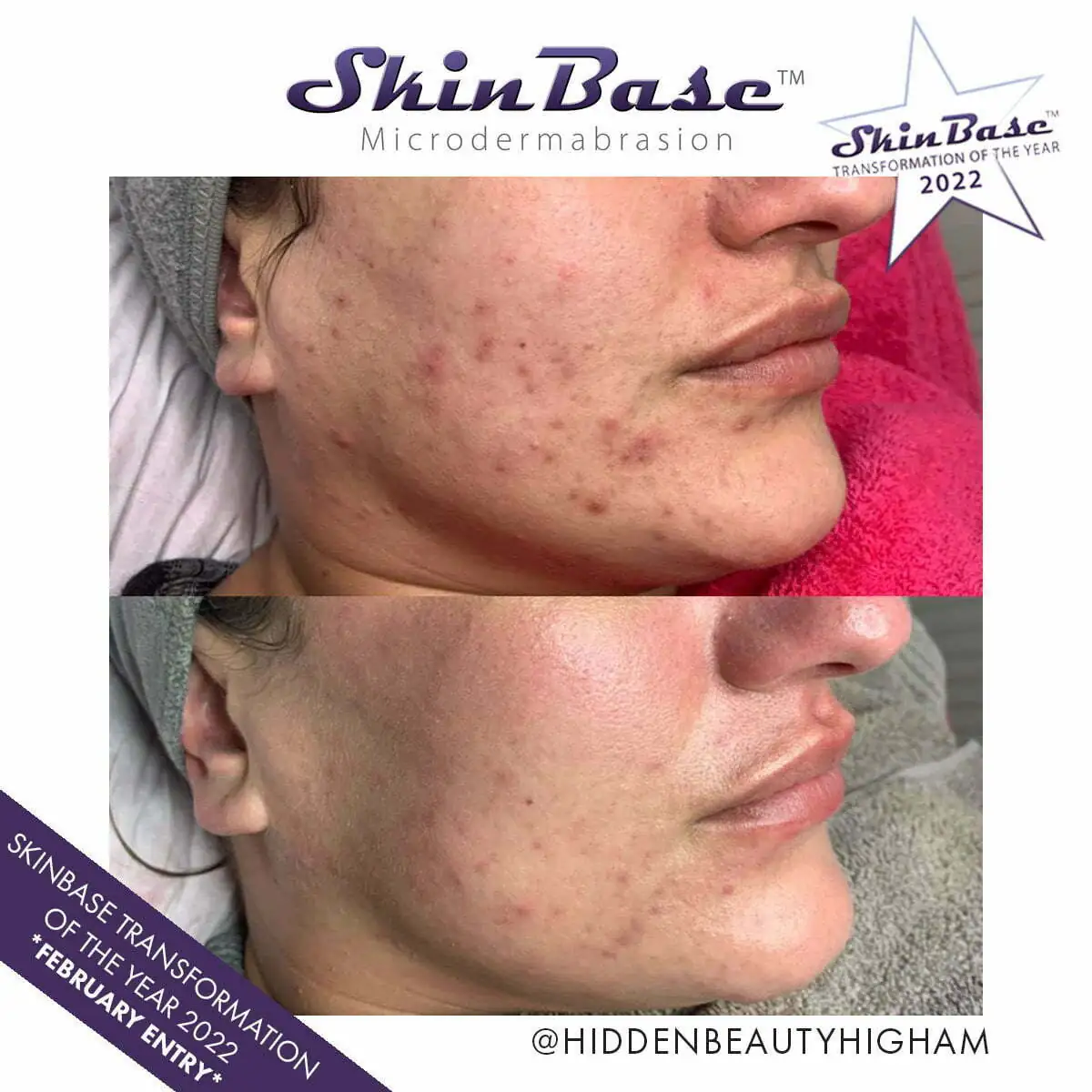 "It is safe to say, it was the best investment I have EVER made. Sarah explained the treatment in so much detail and her passion for the treatment filled me so much confidence – I couldn't resist but try! 
From just the first treatment, I felt the benefits of Microdermabrasion. My skin felt smoother, clearer & brighter! And it just got better and better each week. 
I still continue to visit Hidden Beauty for a monthly Microdermabrasion facial to help keep my skin feeling it's very best. 
I highly recommend this facial! Before beginning my skincare journey, I wouldn't leave the house without any make up on but now I can go out proudly makeup free!"
"Booked in with ocean for course of 6 MD, i wasn't too sure what to expect at first, a fancy new treatment to try – but WOW! My skin looks and feels amazing, i'm not one to wear make up everyday (busy mum life) but would always feel conscious when i didn't, now I don't have to! The glow is unreal! And to top it off Ocean is such a lovely person, she makes you feel so comfortable! "
 "I know Hayley is well known for her pedicures (known as 'the foot lady') but even so, the results surpassed my every expectation. Combined with a series of microdermabrasion treatments (not always weekly due to life getting in the way) along with strict homecare we were able to achieve unimaginable results. I'm delighted."
Microdermabrasion: What to expect
If you've never had a microdermabrasion treatment before, you might want to know more about what to expect before and after your treatment.
You do not need to do any preparation before having your treatment. Your therapist will let you know about anything you need to do before you arrive so follow their instructions. 
Usual instructions include:
Avoiding waxing or tanning before the treatment

Avoid exfoliating creams for a few days prior to your treatment

No injectables or fillers for 14 days before treatment.
Your therapist will advise you on the aftercare instructions recommended after your microdermabrasion treatment.
Immediately after the treatment, you may experience some redness in the treated area but this should clear up within a few hours. Most people return to their normal daily routine straight after the treatment. Your skin may feel a little sensitive until your skin fully heals so make sure you avoid sun exposure and wear SPF when going outside.
After one treatment, you will start to see improvements in your skin such as looking smoother and a more even tone. However, we recommend further treatments to experience the full benefits of The SkinBase Facial. Your therapist will be able to provide recommendations on how many treatments will be required for your skin. Ongoing results are also dependent on your skin care routine and how well you look after your skin.
Find Your Local SkinBase™ Therapist
SkinBase™ is the leading microdermabrasion treatment and winner of Best Advanced Treatment 2018 and 2019 at the National Beauty Awards. With over 2,200 accredited salons and spas in the UK & Ireland, there's bound to be a salon near you.
Are you a beauty professional, and would like to offer SkinBase™ treatments? Find out more.