Everyone knows about the importance of collagen for a youthful complexion. Some people inject it, some people drink it, but there's no doubt that the best way to benefit from the youth-restoring effects of collagen is to get your skin to start making more of it! SkinBase Radio Frequency Treatments stimulate your body's own collagen production, for long-lasting, fast and effective results. Let us show you some before and after images so you don't have to take our word for it!
Before and After Radio Frequency treatments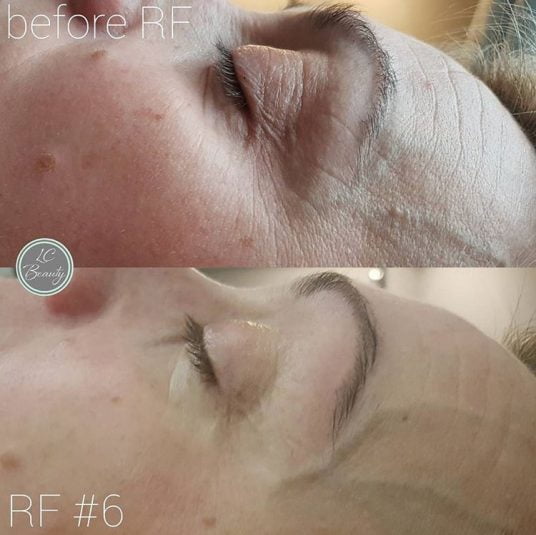 A course of 6 treatments at LC Beauty shows the difference in skin texture and the reduction in wrinkles achieved for this client.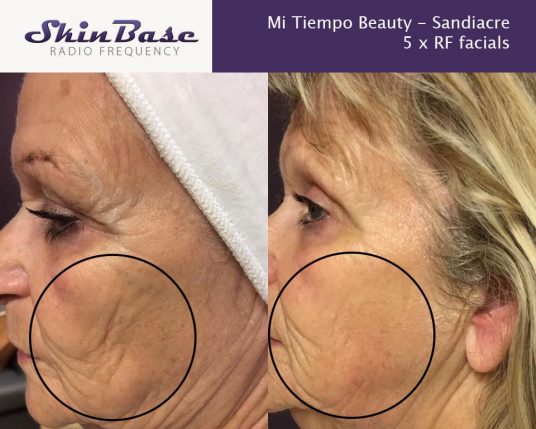 Mi Tiempo Beauty are getting great results using Radio Frequency for their clients, including this result after 5 facials. Skin texture is smoothed thanks to the collagen production that keeps working after treatment to rejuvenate skin.
What are the benefits of Radio Frequency?
Radio Frequency works by stimulating your body's own natural processes; it supports your skin and even helps to improve muscle tone. Wrinkles are smoothed out by the production of your own collagen, elastin and hyaluronic acid; it's actually like the ageing process has been reversed. One of the key differences between RF and getting Botox is that injections can actually damage muscle tone over time. Radio Frequency works with your skin, not against it, and leads to stronger, firmer, and genuinely younger-looking skin. Not only this, but Radio Frequency is quick and painless, non-invasive and results last up to two years. You can continue to experience improvements for up to three months after your treatments too, as your body continues to replenish the collagen in the skin!
Collagen production carries on after treatment
If you're really sold on the instant effect of Botox injections then you can rest assured that Radio Frequency could still be the right choice for you; although the collagen production is a slower process, the treatment has an instant effect on elastin fibres within the skin, so you can enjoy that instantly tighter look from your very first treatment. Don't try to fight ageing by fighting your skin; support it instead, turn back the clock with Radio Frequency.