Take years off your skin in 30 minutes. "It's too good to be true!" we hear you shout. It's a bold claim, we know. But we've come prepared, with proof of the absolutely fantastic results a course of SkinBase Microdermabrasion can deliver.  If you've been feeling like your skin is looking its age, a course of Microdermabrasion Facials could absolutely transform your complexion, whatever it is that's making it look older than you want it to. Prepare to be amazed!
Forehead wrinkles disappear
Some of the most noticeable wrinkles occur on the forehead. These frown lines can be a real source of insecurity for people who develop them. By deeply exfoliating the skin, a course of Microdermabrasion Facials stimulates cell renewal to reduce these wrinkles. On top of this, Microdermabrasion also encourages collagen production, which will plump out wrinkles for a smoother, more youthful appearance from the very first treatment! Take a look at this before and after picture: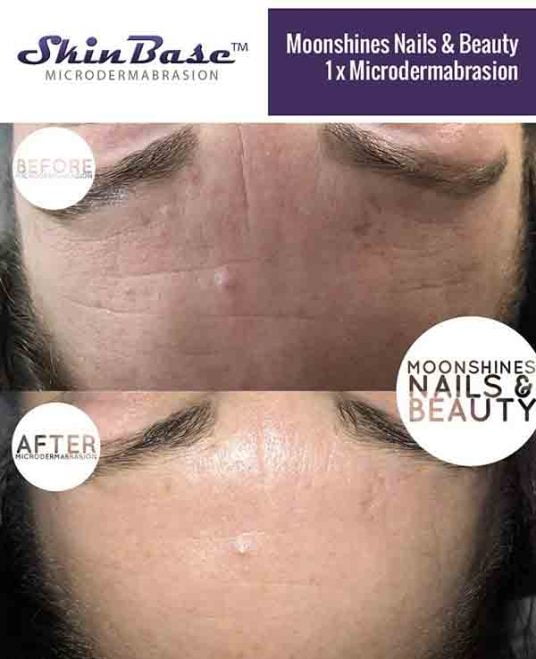 Improved skin texture
Every complexion can benefit from the smooth, even and radiant appearance that Microdermabrasion provides. But for ageing skin, this can really make a huge difference. Uneven skin texture, dry patches, and dead skin build-up will all make the skin look far older than it is. Microdermabrasion is an extremely effective form of exfoliation that intensely rejuvenates, removing dead skin cells and improving the skin's circulation. Skin that looks old or tired will be left looking radiant and feeling sublime.
Even skin tone
Although uneven skin pigmentation can occur at any age, it's a particular problem for older skin because it takes a while for sun-induced pigmentation to become visible. Those days spent in the sun on holiday years ago will start to take their toll on the skin in later life. Microdermabrasion helps to reduce this by lifting away pigmented areas and encouraging the skin to produce new, evenly toned skin cells. Here's an example: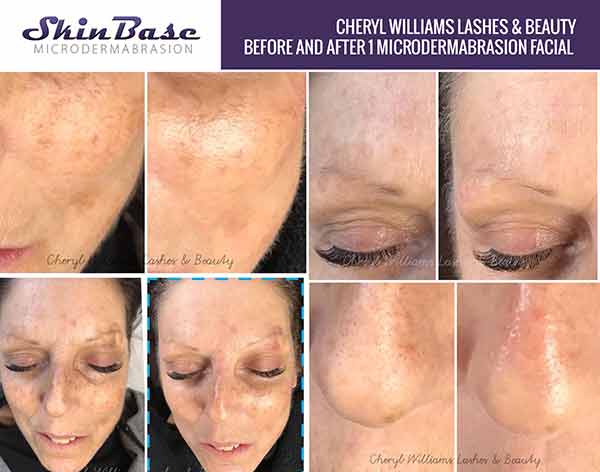 See more before and after pictures here.
How does it work?
Microdermabrasion is a particularly effective form of deep exfoliation. During a facial treatment, your skin will be cleansed and prepared by your therapist, and then a fine jet of abrasive crystals will be passed over your skin. If necessary, particular attention will be paid to problem areas. The crystals will abrade away dead skin particles, and the debris from the skin is then sucked away using a gentle vacuum. This action has the added benefit of stimulating the circulation, and promoting collagen production, for rejuvenation deep within the skin. After this, your skin will be moisturised and an SPF applied – you can go straight back to your day, with fresh, smooth, youthful looking skin.
Book a course for the best results
With each progressive treatment, your therapist will be able to increase the intensity of the exfoliation. This means that not only will you will be able to see improvements from your very first session, your complexion will keep getting better and better.  What are you waiting for? Book a course of Microdermabrasion Facials today, your skin will thank you!