Today is the very last day of July, and the window for entering the SkinBase Transformation of the Year Competition is almost over. From tomorrow, the voting will begin, and two of the fantastic entries will soon be crowned winners by both the public and our SkinBase therapists. Collagen Lift facials have been a client favourite in July as our brilliant therapists plump, firm, and contour skin. Let's look at some more Collagen Lift transformations vying for your votes next week. Find out more about the SkinBase competition, including the incredible prizes up for grabs here. 
Beauty Within 
6 x Collagen Lift Treatments 
If you're looking for a pre-wedding transformation to feel your best on the big day, look no further than SkinBase. Our treatments will put you on the path to perfect skin as our therapists work their magic. Kat's client was feeling the same way and had six Collagen Lift facials in preparation for her upcoming nuptials. As the before and afters show, the treatment has rejuvenated her skin. Her complexion is glowing, and she is over the moon with the results. Both she and her fiancé noticed visible differences in her skin after the first treatment and each session after.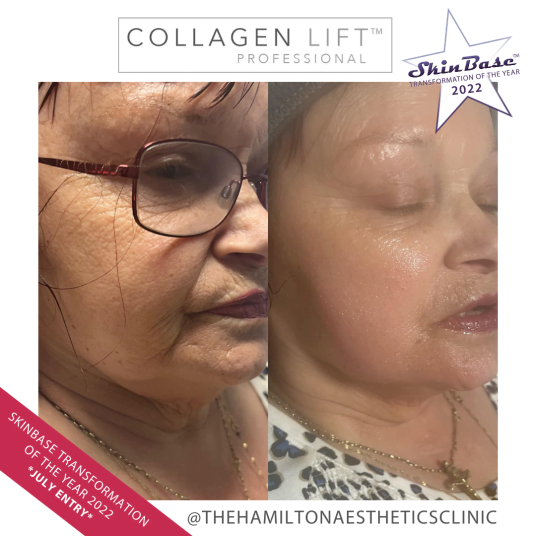 6 x Collagen Lift Facials
You do not have to wait for a special occasion to take the plunge and treat yourself to pampering facial treatments. Turn a regular day into a special one and transform your skin with SkinBase Collagen Lift. Cheryl's client had a course in Collagen Lift and cannot believe her fabulous results. The picture speaks for itself with this entry; the client feels like her life has changed. The skin is visibly smoother, with reduced fine lines and wrinkles. Her cheeks are plump, and her complexion has a healthy glow. If you want to treat your skin, find your nearest SkinBase therapist here. 
Katherine Monique Beauty
6 x Collagen Lift treatments 
This fantastic July entry from Katherine Monique Beauty is an excellent example of how the Collagen Lift Facials work to turn back the clock on ageing. The treatment was transformational for Kat's client and has worked wonders on her face and décolleté. Her neck has particularly benefitted and is visibly smoother and lifted. She is ecstatic and can't wait to have more treatments in the future. For other ways the Collagen Lift treatment can benefit your skin, click here. 
Havering Beauty Salon
6 x Collagen Lift Facials & 2 x MD Facials
A great way to maximise any results achieved with SkinBase is to combine our fantastic treatments for an extra skin boost. Katie's client had a course of Collagen Lift and an additional two sessions of SkinBase Microdermabrasion. Both treatments maximise the benefits you can achieve, as the skin can be resurfaced, lifted, and contoured. The client's skin has come alive, and she is so happy. If this combined Collagen Lift Facial transformation has your vote, don't forget to get involved once the voting opens on our Facebook page tomorrow.