We have all heard the phrase "I soooo need a facial", but what about the rest of our body? The back is a hard-to-reach part of the body that can suffer from blackheads, spots, dry skin or oiliness. Try out the 'Bacial'.
How does it work?
During treatment a vigorous jet of crystals will slough away old skin and imperfections. Meanwhile the powerful vacuum action will unblock pores and stimulate blood flow to the area to promote healing and improve the appearance of the skin. To achieve the best results we recommend a course of treatments.
This result below is before and after 4 treatments, as you can see the inflammation is going down in the picture on the right, not as many large red pustules and now the microdermabrasion can continue to work to reduce the uneven skin tone and discolouration caused by the spots. SkinBase microdermabrasion is a progressive treatment so you will continue to see improvements during a course.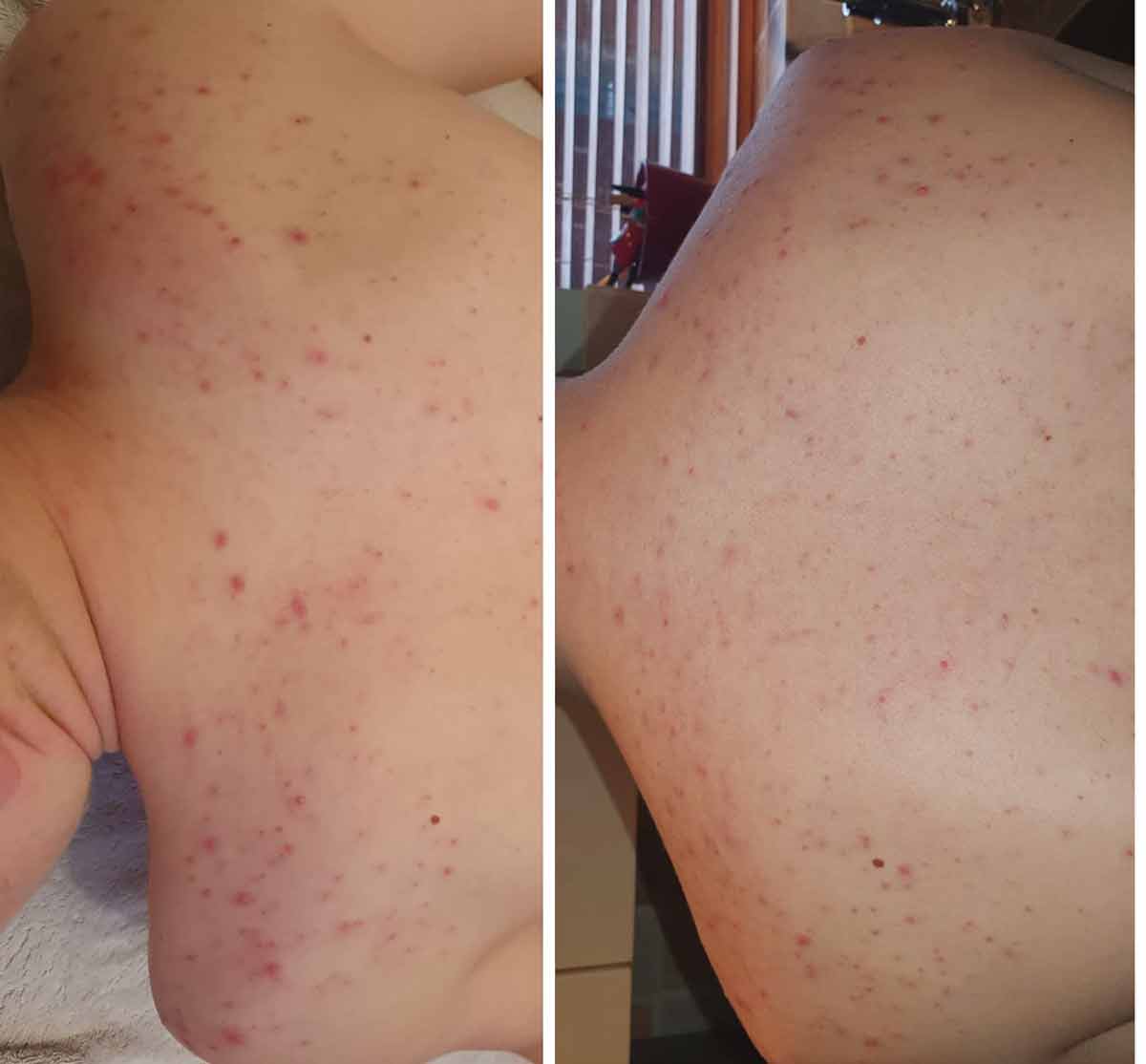 How do we stop our backs from getting spotty?
That means if you run or workout, make sure you shower as soon as possible after finishing your workout to avoid the sweat on your back clogging up your pores. 
Wash gym clothes after one wear
And, if you can, put on loose clothing which doesn't stick to your skin.
Don't leave residue on your skin
When you're in the shower and you wash your hair, take care that the residue of shampoo and conditioner doesn't run down your back. Again, this clogs your pores. Rinsing your hair with your head in a forward position will help to avoid this.
Exfoliate (Microdermabrasion is perfect!)
Exfoliating your back is important too, which is why microdermabrasion treatments can be so effective for this area of your body, helping to unclog pores and keep skin clean and clear.
Find a therapist
Ask your local SkinBase Therapist to perform that much-needed facial, on your back! This deep-cleansing, exfoliating treatment will leave your back feeling soft and smooth. Skin will be clear of spot breakouts and blackheads.